Prince George Starts School
Prince George Starts Montessori Preschool, but Is It Right For Your Tot?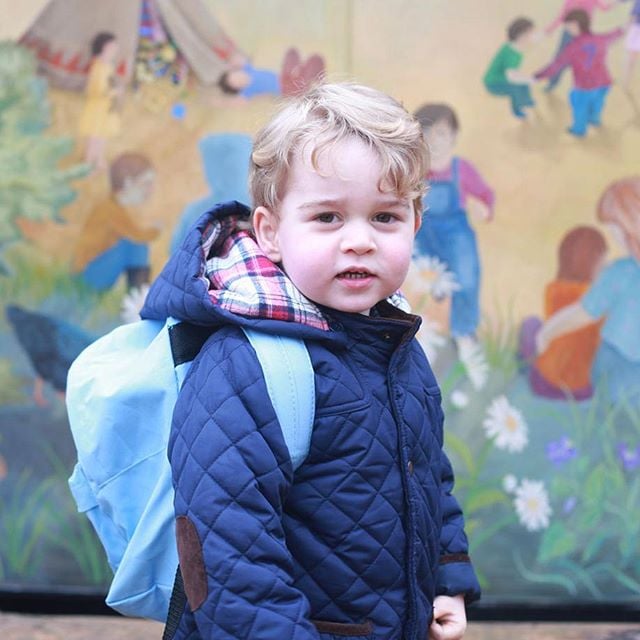 Prince George started his first day of preschool today, and like most proud parents, his mom photographed the event and posted the pictures on Instagram. The 2-year-old son of Prince William and the Duchess of Cambridge is attending the Westacre Montessori School in Norfolk, close to their country estate. According to People, the school will cost the royal couple $55 a day, and the prince will attend a few days a week.
So what exactly is a Montessori program and is it right for your child? Created by Dr. Maria Montessori "to observe and support the natural development of children," the Montessori Method is a popular alternative to the teacher-led educational system at traditional schools. It focuses instead on individualized, independent learning.
The Montessori curriculum also often comes with a higher price tag. This leads many parents to wonder if a Montessori preschool will provide a valuable education, or if the cost will be a waste of money. According to the many readers who've weighed in, the answer depends on a number of factors. Here are their five suggestions for determining whether a Montessori preschool is the best choice for your child.
1. Your Child Is Adventurous
Children at Montessori schools generally guide their own learning. Kate C. relays that a good Montessori school will teach children to respect each other and their environment and encourage them to be as independent as possible. However, moms like Lindsey O. find that this method isn't ideal for every child. She switched her daughter out of a Montessori school when she found her daughter was "choosing" to do the same tasks day after day because she isn't adventurous enough to try new tasks on her own.
2. Your Child Thrives With Less Structure
Readers also recommend the Montessori Method for preschoolers who are self-motivated and who thrive with less structure. "For some children [Montessori schools] are amazing," shares Sherri C., but "for others they are the worst thing possible." She explains that moms really need to know their children to determine whether they will flourish in a more free-flowing educational environment or if the lack of structure will be detrimental.
3. The Specific Classroom Is a Good Fit
When evaluating preschools, Montessori or not, it's smart to observe the classroom several times and meet the teacher to get a better idea of whether or not your preschooler will benefit. "There are many things that people don't understand about the Montessori Method, and that is okay," says Becky G., adding that, "The important thing is to make sure that you understand what they are doing in the classroom."
Additionally, be aware that the name Montessori is not legally protected, so any institution can say they are a Montessori school without having their teachers go through compulsory Montessori training, Erin R. points out.
4. You're Prepared For What Comes Next
Another factor to consider is how long your child will study under the Montessori Method and what school she will attend next. Some Montessori schools offer only prekindergarten classes, while others continue up to grade eight or even grade 12. Readers say that if your child switches to public school, there likely will be a transition period.
Lori L. explains that because the Montessori Method focuses on the individual, some children "are less apt to be socially ready for the demands of public school." Debbie, a public school kindergarten teacher, says she can always pick out the students who went to a Montessori preschool because they have "trouble with following the teacher's directions and transitioning from one activity to another. They usually want to set their own pace and get easily frustrated when they have to follow what all the other kids are doing." However, Sandy G. says the transition seems a less difficult one to make in high school.
5. The Cost Is Within Your Budget
If you believe the self-propelled learning at Montessori schools syncs with your preschooler's personality and long-term education plan, then determine whether the cost of such an education is within your budget.
Rosie P. "shudders" at the cost of Montessori preschools in her area, because she believes her child can get a great education at a normal preschool if she is actively involved. On the other hand, Sandi M. is pleasantly surprised that the Montessori school in her neighborhood is cheaper than day care, so she is planning to make a switch.