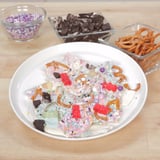 Ingredients
1 1/2 cups white chocolate chips
Pastel food coloring
Cookie crumbles
Gummy bears
Pretzels
Sprinkles
Directions
Line a baking sheet with parchment paper and set aside.
Microwave white chocolate chips for 2 minutes, stir, and continue microwaving in small increments until fully melted. Divide 1 cup of melted chocolate between two bowls and mix in desired food coloring.
Pour the remaining white melted chocolate into the baking pan. Drizzle the pastel-colored chocolate in top. (Tip: work quickly, as the chocolate will start to harden.)
Add in desired toppings (to keep it looking clean and pretty, try to stick to three) and refrigerate for 30 minutes to harden.
When cooled, break into pieces and enjoy!
Information
Category

Desserts, Chocolate

Yield

10 servings

Total Time

39 minutes, 59 seconds