Should Babies Sit in a Car Seat on an Airplane?
The 1 Thing You Should Always Have With You When You Fly With Kids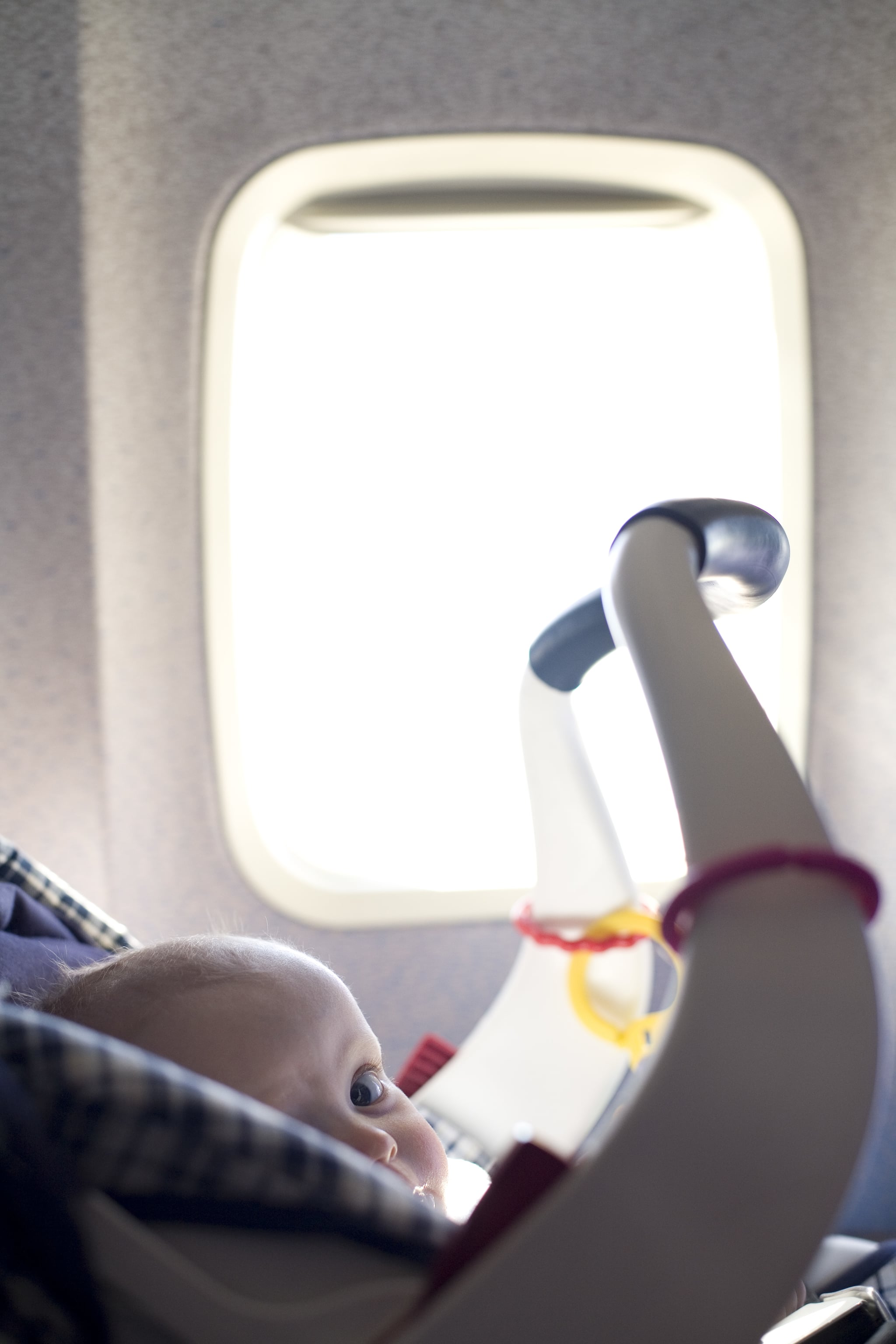 Although airplane pilots do their best to let passengers know when the plane is going to hit a rough patch, turbulence can be somewhat unpredictable and unexpected, which is why the crew always asks that you sit with your seat belt on even when the light is off. However, many airlines don't require children under 2 to even have a seat to themselves, meaning the smallest, most vulnerable passengers could be without proper restraints in the case of unexpected turbulence. This is why Sarah Tilton, Britax's child passenger safety technician and chair of the National Child Passenger Safety Board, says parents should always have a car seat when traveling with their children.
"Having a car seat makes the whole environment less stressful for everyone," Tilton told POPSUGAR. Not only does a car seat mean your child is kept just as safe as they would be in a car, but "the parent is not worrying about trying to hold the child down when they get a little active," which can help to eliminate some behavioral issues.
Additionally, Tilton makes note of the fact that parents can't really be to their children what a car seat can during a flight. "We may be sitting there holding our child with one hand and a drink with another . . . so are we really going to be prepared to hold our child tight when we need to? Turbulence can be so unexpected, so children need to be properly secured."
Besides, as Tilton said, "Our children are our most precious cargo," so why would we not put as much thought into safety on a plane ride as we do every time we strap them securely into the car? To help protect your precious cargo, here are a few of Tilton's tips for flying with a car seat.
Call to make your flight reservation rather than doing it online. Most parents don't want to buy a seat for their child under 2 since it's considered legal by the Federal Aviation Administration (FAA) to travel with them on your lap. "I often tell parents to call the airline to make a reservation to talk to someone about discounts for children under the age of 2," Tilton said.
"If you choose not to purchase a seat for your child, go to the gate with your car seat and ask if the flight is full," she suggested. "If the flight is not full, the airline should allow you to take your car seat on board and use an empty seat for your child without making that purchase. But only if the flight is not full." If you find out the flight is full, you can check the car seat at the gate, usually free of charge.
Don't fly on busy days during busy times. Tilton said: "Pick flight times that are not popular (so not Mondays, Fridays, or Thursday afternoons) because that's when business people are flying and flights are going to be full. Airlines are less likely to be accommodating then. Fly red-eyes, or take early-morning or late-night flights that aren't typically full."
Although the FAA doesn't require children under 2 to have their own seat, its website urges parents to "secure your child in a CRS [Child Restraint Systems] or device for the duration of your flight" because "your arms aren't capable of holding your child securely, especially during unexpected turbulence." However, not all car seats are government approved, so the FAA asks parents to make sure the seat has the statement "This restraint is certified for use in motor vehicles and aircraft" printed on it before heading to the airport.
Not only does flying with a car seat make life easier for every party involved (aside from the installation process while everyone is trying to board — that's kind of a nightmare, but it's worth it), Tilton pointed out another reason taking your child's car seat along for the flight makes sense even after you've touched down at your destination: "you're going to need a car seat at the other end anyway."