What to Wear to Disney World
The One Thing You Forgot To Plan For Your Trip to Disney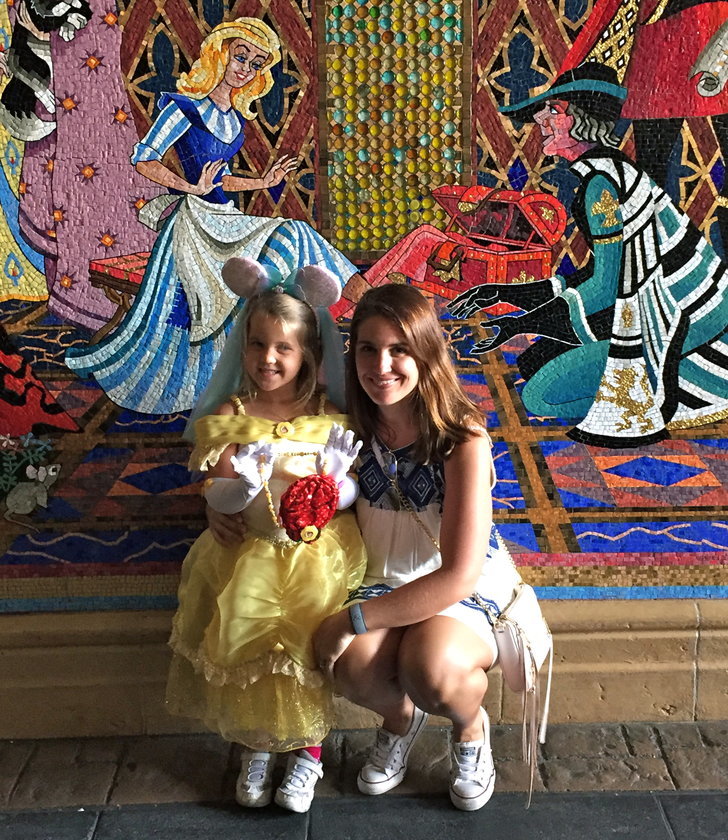 As most moms know, these days, a trip to Disney takes some serious planning, and mama, you're all over it. You bought your park tickets, booked your flights and resort, and made your FastPass+ and dining reservations months in advance (like six for those coveted Cinderella's castle and Be Our Guest razzes), but as your trip nears, you feel like you're missing something. "This might sound stupid," said my friend, who's about to embark on her first Disney adventure with her husband and two kids, ages 4 and 6, "but I have no idea what to wear."
Since I'm now a seasoned Disney World vet, having done the Magic Kingdom in a day for two years running, I had to agree that finding the perfect outfit to wear to Disney isn't easy. You know many, many photos are going to be taken, so of course you want to look good, but every mom friend who's gone before you will warn that you're likely to walk at least 7-8 miles during your average day at the park (my husband's pedometer confirmed that we took more than 20,000 steps each day we went), which means those cute wedges or even flip flops aren't going to cut it. If you're style-conscious, however, that oh-so pervasive shorts-and-running shoes look? Not happening either. Here's how you can balance fashion and function at Disney.
Start with footwear. You're going to be walking a lot during your day at the park, and for once, listen to your own mother and wear appropriate shoes. Luckily, we're in the era of stylish sneakers (thank you, Gigi Hadid, who, by the way, can provide tons of inspiration for stylish sneaker looks), so pull out those Chucks, All-Stars or old-school Nikes or New Balances, and you're set. I wore my handy Converse the whole day, and my feet were happy that I did.
Think layers. If you're anything like my family, you'll be at the park from sunrise to way past sunset, so layers (and a good look at the forecast) are key. If you're visiting during a super hot day, a T-shirt or loose-fitting dress will look chic with your tennies, but bring along a light jacket for the early morning and evening hours. If it's a bit cooler, consider cut-offs and a layered tank and long-sleeve tee or light sweater. If you're going during an abnormally cold Florida day, bring along a hat or light scarf, which can also work as a makeshift blanket for your kids.
Ditch the shoulder bag. I love a huge shoulder bag in my normal life, but at Disney, I'm all about a small crossbody, just big enough to carry my cash, cards, phone, and lipgloss. Stash the bigger stuff (water, snacks, extra layers) in a backpack that either you or your partner can wear. The key is to keep your hands free.
Be careful with athleisure. It might be tempting to throw on your favorite yoga pants and tank and call it a day, but if your'e going on a hot, sunny day, those black leggings are going to start feeling more stifling than comfy. Consider shorts instead, and remember this is a child's theme park, not your gym, and no one wants to see you in a sports bra.
Don't be afraid to add a little Disney, but don't do it on-site. You'll see tons of tacky Disney apparel all over the park, both in stores and on visitors, but just because they're doing it wrong, doesn't mean there's not a better way. If you really want to show off your Disney love (and really, who doesn't love Disney, at any age), do a little advance planning and track down a retro Mickey tee or some old-school ears, and skip the overpriced modern stuff sold on Magic Kingdom's Main Street.
Image Source: POPSUGAR Photography / Kate Stahl