Nutella-Filled Croissant Doughnut Holes
Inspired by Dominique Ansel's Cronut [1]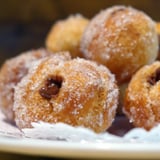 Ingredients
For the dough:
Canola oil
2 (8-ounce) canisters refrigerated Pillsbury crescent dinner rolls
For decoration:
1/2 cup granulated sugar
1 cup Nutella
Special equipment:
Bismarck piping tip [2]
Directions
To fry dough: In a heavy 2-quart saucepan, pour in enough oil to fill it at least 2 inches deep. Heat over medium heat to 350ºF.
Open the dough canisters, and divide the dough into sets of 2 triangles. Press the perforations together on each pair to seal and form a rectangle. Stack 2 rectangles on top of one another, press them together, and then fold them widthwise. Press down. Repeat with the remaining dough.
Use a 1-inch-round biscuit cutter to cut the holes. Reserve the remaining dough.
Fry the dough in hot oil for 45 to 90 seconds on each side or until golden brown and cooked through. Drain on the paper towels, and allow them to cool slightly.
To assemble: Roll croissant doughnut holes in granulated sugar. Add Nutella to a piping bag fitted with a Bismarck piping tip, and carefully inject each hole with Nutella. Serve immediately.
Information
Yield

About 16 croissant doughnut holes