Birthday Bubble Waffle Ice Creme Cone
Adapted from Cucina Pro [1]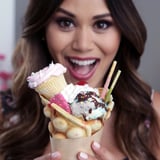 Ingredients
For the Funfetti bubble waffle:
3 egg yolks
3/4 cup milk
1 tablespoon vanilla extract
6 tablespoons butter, melted
3/4 cup sugar
1 1/4 cups flour
1 1/2 teaspoon baking powder
1/8 teaspoon salt
2 tablespoons jimmies sprinkles
6 egg whites, beaten to medium peaks
Garnish:
Birthday cake ice cream
Chocolate magic shell [2]
Mini cupcakes
Pocky [3]
Animal cookies
Sprinkles
Whipped cream
Cherries
Special equipment:
Bubble waffle maker [4]
Directions
In a bowl, whisk together egg yolks, milk, vanilla, butter, and sugar until combined. In a large bowl sift together flour, baking powder, and salt. Whisk in the egg mixture until well combined. Add in sprinkles and mix until combined.
Using a hand mixer, beat egg whites until they reach medium peaks. Fold the egg whites into the batter in thirds, until incorporated.
Heat the bubble waffle iron and then pour batter evenly onto the bottom plate carefully. Use a wood spoon to spread the batter evenly over the bottom plate. Bake for 3 to 5 minutes, or until the waffle turns a golden brown.
Carefully remove waffle from the iron and fold into a cone. Once cooled, add a scoop of ice cream, top with chocolate shell, mini cupcake, Pocky, whipped cream, sprinkles, and finish with a cherry.
Information
Category

Ice cream

Yield

5 Servings

Total Time

24 minutes, 59 seconds