Falafel Burger
From Nicole Iizuka, POPSUGAR Food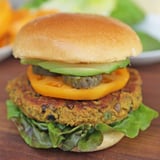 Ingredients
2 tablespoons vegetable oil
2 green onions, chopped
3/4 cup mushrooms, chopped
1 (15 1/2-ounce) can garbanzo beans, undrained
3 cloves garlic, chopped
1 tablespoon cilantro, chopped
1 tablespoon parsley, chopped
1 1/2 tablespoon curry powder
1/2 teaspoon cumin
3/4 cup breadcrumbs
2 egg whites
4 hamburger buns
Toppings:
Hummus
Lettuce
Sliced tomato
Pickles
Avocado, sliced
Directions
Heat one tablespoon vegetable oil in a large skillet over medium-high heat. Add green onions and mushrooms and fry until tender, stirring frequently, about 3 minutes.
In a food processor, combine garbanzo beans (including the liquid) and garlic, and blend until smooth. Transfer mixture to a bowl and add mushrooms and onions. Mix in cilantro, parsley, curry powder, and cumin. Add in breadcrumbs and egg whites and mix until blended. Form into 4 patties.
In a large skillet over medium heat, heat the remaining tablespoon of oil and place the patties into the hot skillet, frying for 5 minutes on each side until nicely browned.
Serve on toasted buns with hummus, lettuce, tomatoes, pickles, and sliced avocado.
Information
Category

Sandwiches

Yield

Serves 4

Total Time

24 minutes, 59 seconds