Chocolate Creme Cupcakes
From Delicious Disney Sweet Treats [1] and Disney's Contemporary Resort Bakery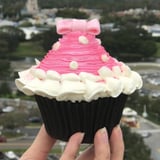 Ingredients
For the chocolate cupcakes:
1 1/2 cups sugar
2 cups canola oil
2 eggs
2 1/2 cups all-purpose flour
2 tablespoons cocoa powder
1 1/2 teaspoons baking soda
1 cup buttermilk
2 teaspoons vanilla extract
1 teaspoon salt
For the mousse:
1 cup heavy cream, divided
2/3 cups white chocolate chips
1/2 tablespoon powdered gelatin
2 egg yolks
For the frosting:
2 cups heavy whipping cream
1/2 cup sugar
Red food coloring
Fondant bow for decorating, optional
Edible pink disco dust
Directions
To make cupcakes: Preheat oven to 350ºF. Line muffin tins with paper liners; set aside.
Combine sugar, oil, and eggs in a large bowl; beat on low speed until well combined.
Add flour, cocoa powder, and baking soda. Mix 1 minute on low speed, then 3 minutes on medium speed.
Gradually add buttermilk, vanilla extract, and salt. Mix 2 minutes on low speed.
Transfer batter to muffin tins, filling cups 3/4 full. Bake 20 to 25 minutes until a wooden pick inserted in the centers comes out clean.
Cool completely on wire racks before frosting.
To make mousse: Whip 3/4 cup heavy cream with mixer on medium speed to medium-firm peaks; set aside.
Melt white chocolate in double boiler or heatproof bowl on top of a pot of simmering water. Remove from heat and set aside.
Pour remaining 1/4 cup cream into a small saucepan; stir in gelatin and set aside until gelatin softens and swells, about 3 minutes. Stir over low heat until gelatin dissolves. Don't let mixture boil.
Remove from heat and gently add egg yolks, then melted chocolate, stirring quickly to avoid lumps.
Fold whipped cream into white chocolate mixture.
To make frosting: Whip cream and sugar together until medium peaks form.
Transfer half of the frosting into a separate bowl. Dye with red food coloring and stir until it turns pink.
To assemble: Use a knife to cut a cone out of the center of the cupcake, with the tip about 2/3 into the cupcake. Remove the cake cone and set aside. Fill the center with mousse, and invert the cone on top of the cupcake, pressing down gently so the tip is facing upwards.
Use white frosting to create a border along the seam of the cupcake. Pipe pink frosting in a circular fashion going up the cone. Add a frilly layer of white frosting on top of the white border and tiny polka dots on the pink frosting. Top with a fondant pink bow and edible pink disco dust.
Information
Yield

18 cupcakes

Total Time

44 minutes, 59 seconds