​Risoni With Mediterranean Vegetables, Parmesan Crisp and Rocket Leaves​
Brasserie Quartier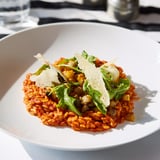 Ingredients
1 tbsp butter
1 tbsp olive oil
100g uncooked risoni pasta
400ml chicken stock
20g grated parmesan cheese
1 tsp chopped fresh basil
1 small eggplant
1 red bell pepper
2 cloves garlic
1 potato, peeled and boiled
Handful of fresh rocket leaves
Salt (to taste)
Directions
Melt butter in a pan over medium-high heat. Stir in risoni and sauté until light brown.
Add chicken stock and bring to a boil.
Cover the pan and simmer on low heat until risoni is tender and the liquid is absorbed.
Mix in parmesan cheese and basil, season with salt.
In a separate pan, add olive oil, finely diced eggplant, bell pepper, potato and crushed garlic. Sprinkle with salt and stir until vegetables cook.
Serve the risoni topped with diced vegetables. Garnish with fresh rocket leaves and parmesan shavings.
Information
Category

Pasta

Cuisine

Italian