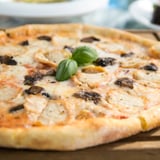 Ingredients
PIZZA DOUGH
917g 00 flour
6g Dry yeast
500ml Water
17g Salt
50ml Olive oil
BECHAMEL SAUCE
1l Milk
100g Butter
100g Flour
1 Bay leaf
2 Cloves
1 Small onion
100g Parmesan cheese
5ml Truffle oil
Black pepper (to taste)
Salt (to taste)
PIZZA
160g Pizza dough
90ml Bechamel sauce
3ml Truffle oil
15g Truffle salsa
50g Sauteed mushrooms
65g Mozzarella cheese
1g Oregano
Sea salt flakes (to taste)
10g Pecorino shavings
Directions
FOR PIZZA DOUGH:
Mix the water and the yeast and mix in the dough machine rest the dough for 1 hour.
Portion into 160 gm dough and keep in the chiller.
FOR THE BECHAMEL SAUCE:
Follow the regular béchamel method add the parmesan and the truffle oil in the end.
FOR THE PIZZA:
Open the dough with the rim spread the béchamel add all the toppings (mozzarella, mushrooms, oregano).
Cook in the 300-degree pre-heated pizza oven until the right color and crisp in 3-4 minutes.
Top it with the salsa, truffle oil and pecorino garnish with cut chives brush with EVOO.
Information
Category

Pizza

Cuisine

Italian

Yield

1-2