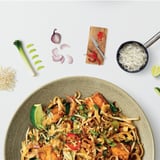 Ingredients
½ leek, finely sliced
½ red onion, finely sliced
50g fried tofu
Handful of beansprouts
½ tsp of ginger, grated
1 egg, whisked
Splash of vegetable oil
Amai sauce
150g rice noodles
TO GARNISH:
1 fresh red chilli, sliced
1 tbsp of crushed peanuts
Sprig of coriander
Pinch of dried chilli flakes
¼ of lime
Sprig of mint, thinly sliced
Directions
Cook rice noodles in pan of boiling water (follow packet instructions).
Place all raw ingredients in a hot frying pan with a splash of oil, toss.
Add whisked egg and drained cooked noodles, tossing ingredients quickly.
Add amai sauce and season to taste.
Place on plate, garnishing with crushed peanuts, mint, coriander, chillies and lime to serve.
Information
Category

Main Dishes

Cuisine

Other Asian