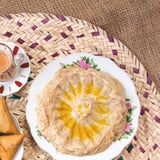 Ingredients
1kg Harees or Pearled durum wheat
1kg Boneless Spinneys Food Organic Australian Lamb or Spinneys Food Chicken
2 tsp Spinneys Food Ground Cumin
½ cup Olive oil
Salt and Black Pepper
Directions
Soak the crushed wheat in water for 6 hours or overnight.
Place the pre-soaked wheat in a large pot, add 2 liters of water and boil until the wheat is tender.
In a large, heavy-bottomed pot, add the wheat and the meat with a little salt and pepper and enough water to cover. Bring to the boil then cook on a low heat for 2 hours or until tender.
Strain the wheat and meat and mix vigorously until you have a paste-like consistency.
Add the cumin, olive oil, salt and pepper and mix well.
Drizzle with olive oil and serve warm.
Information
Category

Main Dishes

Cuisine

Mediterranean/Middle Eastern

Yield

6

Total Time

3 hours, 59 minutes, 59 seconds