Matcha Panna Cotta With Anko Paste
Spinneys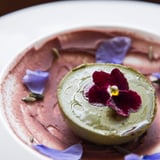 Ingredients
For the Panna Cotta:
500ml soy milk
3 tsp matcha powder
100g Spinneys Food Dates, pitted
5 sheets of gelatin (or 1¼ tsp gelatin powder)
Pumpkin-seed oil
Spinneys Food Edible Flowers
For the Anko Paste:
1 can red kidney beans, strained
¼ cup water
3 tbsp Spinneys Food White Sugar
Directions
Place soy milk and matcha powder in a saucepan and mix well until all the matcha powder is dissolved.
Add the dates to the saucepan and simmer over a medium heat for 5 minutes or until the dates are soft and the flavour has infused with the soy milk.
While the mixture is simmering, soak the gelatin sheets in cold water until soft. Drain the excess water. Add the softened gelatin sheets to the soy milk and matcha mixture and continue simmering until all the gelatin has dissolved. Set aside to cool.
Pour the matcha mixture into a blender and purée.
Strain and carefully pour the mixture into 6 small ramekins or silicone molds. Chill overnight or until the panna cotta has set.
Place each panna cotta on a swirl of anko paste and garnish with pumpkin-seed oil and the edible flowers.
Information
Category

Puddings/Mousse

Cuisine

Japanese

Yield

6

Total Time

1 hour, 29 minutes, 59 seconds