tashas Labneh & Lentil Salad
tashas
Notes
Allow for 24-hour preparation time for the labneh.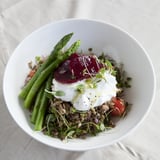 Ingredients
LABNEH
400g Greek yogurt
1 tsp salt
LENTIL SALAD
800g brown lentils, cooked or use 2 tins
4 medium tomatoes, diced
6 cherry tomatoes, sliced
2 handfuls mint leaves, chopped
2 red onions, chopped
60ml olive oil
40ml balsamic vinegar
Salt and pepper
16 pickled beetroot, sliced
20 asparagus spears, blanched
30ml lemon juice
Handful of microgreens
Directions
Labneh
Make the labneh the day before you want to use it.Labneh is made by straining yogurt in a muslin cloth. Use a plain white fabric – stripes and prints color the cheese.
Line a colander with the cloth and put the yogurt in the middle.
Fold the corners together and tie it to the middle of a wooden spoon. Let it hang from the spoon over a deep bowl for at least 24 hours.
The longer you hang it, the thicker it gets.
Don't use fat-free or low-fat yogurt; the water content is too high.
The salt gives the labneh a more cheese-like flavor.
Lentil Salad
Combine the freshly cooked or tinned lentils, tomatoes, mint, and onion in a bowl.
Stir in the olive oil and balsamic vinegar, season with salt and pepper.
Divide the salad into four serving bowls.
Place a dollop of labneh on top of each portion and top with your beetroot, asparagus, and lemon juice.
Garnish with microgreens.
Information
Category

Appetizers

Cuisine

Mediterranean/Middle Eastern

Yield

Serves four people