Dad Makes Tiny Pancakes for Kitten
Boyfriend of the Year Made Tiny Kitten Pancakes, Entire Internet Swooned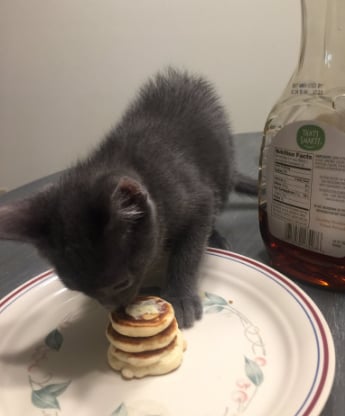 This guy just put all other cat dads out there to shame with his brunch game. Chase Stout and his girlfriend, Kenzie Jones, adopted an adorable kitten named Mr. Wilson as a buddy for their pup, Huey.
Got a kitten this weekend & our German shepherd pup, Huey, thinks it's his. I'm not going to tell him any different. pic.twitter.com/xc11khSxX1

— Chase Stout (@ChaserStout) September 7, 2016
Soon after Mr. Wilson joined the family, Kenzie had to head out of town, leaving all of the four-legged family members in her boyfriend's care. Little did she know she had nothing to worry about – other than missing out on a viral family breakfast.
Stout was making pancakes for himself when he realized he couldn't deprive Mr. Wilson of a hot breakfast. He made them both a stack of flapjacks, telling Buzzfeed, "Obviously I had a stack of three so my man Wilson had to have a stack of three as well." The adorable pictures he tweeted from the family feast have since gone viral, with over 41,000 retweets so far.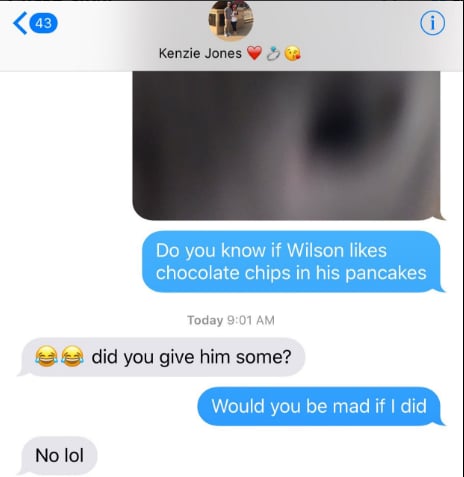 When your girlfriend goes out of town and tells you "don't forget to feed our cat." pic.twitter.com/cJk1VRVzUQ

— Chase Stout (@ChaserStout) September 26, 2016
Not to worry, Chase is such a responsible kitty dad that he already knew not to include chocolate chips. Cheers to many more family breakfasts to come for this happy family.
I should have specified before 60k veterinarians came forward, that they didn't actually have chocolate in them. 😂😂 pic.twitter.com/1yDOlg19vW

— Chase Stout (@ChaserStout) September 28, 2016