What Animal Is the Fantastic Beasts Niffler Based on?
Harry Potter Fans, Prepare to Flip — The Niffler From Fantastic Beasts Exists IRL
If you've already seen Fantastic Beasts and Where to Find Them, then you'll know that the fan-favorite character isn't played by Eddie Redmayne or Ezra Miller . . . rather, an adorable little pickpocket called a "niffler" steals the show (and a lot of shiny things).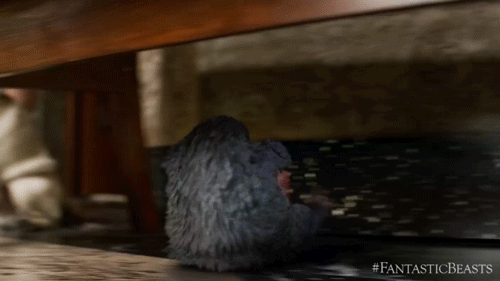 These fictional animals are referenced in the Harry Potter series, too, in Hagrid's Care of Magical Creatures classes, and are known for their handy habit of hoarding valuables like diamonds and gold. But did you know that nifflers exist outside the realm of fantasy, too?
OK, so they don't have a knack for pickpocketing, but these baby echidnas born at the Taronga Zoo in Syndney Australia are the spitting image of nifflers. Called puggles while they're young, the infantile echidnas have the same adorable snout and brown fur body as their Fantastic Beasts counterpart.
Whether they're called a puggle or a niffler, it's safe to say that we want one ASAP. They're so adorable! Check out these photos of the Taronga Zoo's new echidna puggle arrivals, and you'll feel like maybe magic does exist out there. At least we can hope, right?