It's not easy staying on top of all your to-do's, errands, and files but luckily, there's an app for each of those [1]. If you're looking to stay organized or get a grip of your busy life, you've come to the right place. Anything from prioritizing projects and scheduling tasks, to storing all your brilliant ideas, we've found the best mobile apps that make managing your day-to-day's a bit easier. The best part? Tthe features mentioned below are free! Make life seamless on and offline by downloading these 11 helpful productivity and organizational apps ahead — you'll wonder how you ever surived without them.
IF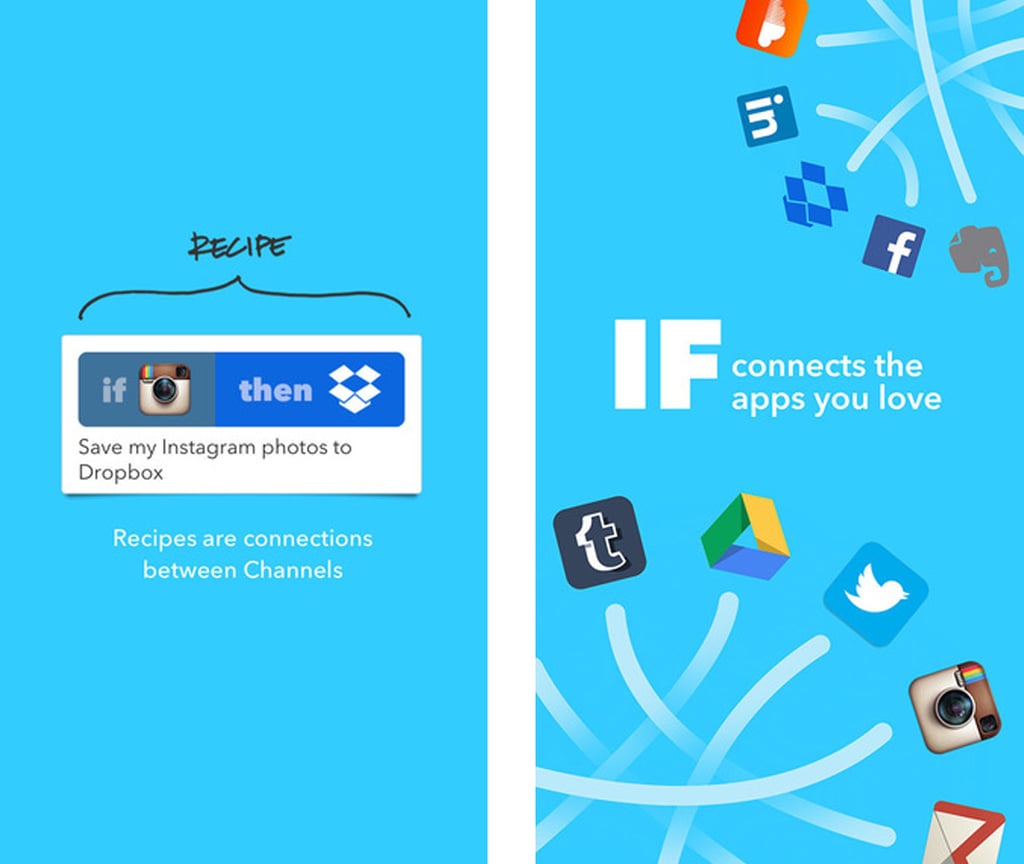 Truly an all-in-one app, IF (If This Then That) [2] connects almost 300 other apps in one place including Spotify, Instagram, Google Drive, and Fitbit. Receive notifications when your favorite topics are being talked about, sync files across cloud platforms, catalog emails, track gym visits, and more.
Available for iOS and Android
Dropbox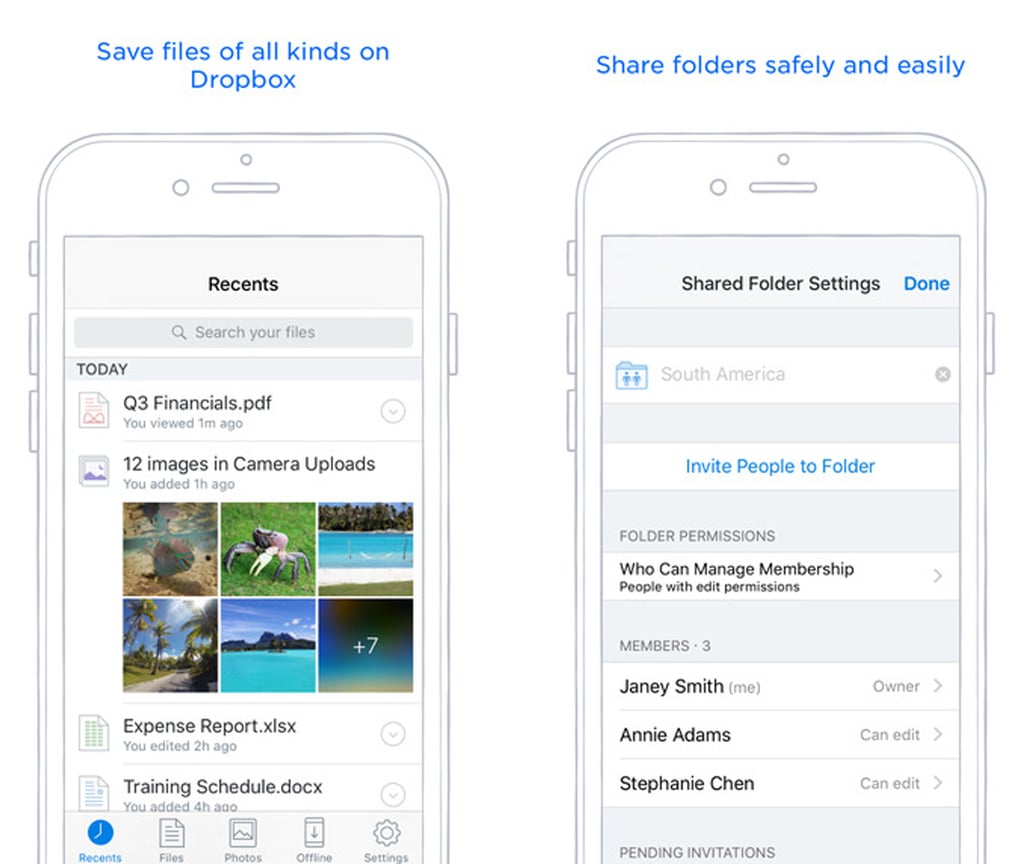 Keep all your files, photos, docs, and videos in one place using Dropbox [3]. Share large files with anyone — including those without an account — from any of your devices. Everything you store in Dropbox is automatically backed up and synced to the app, allowing you full access wherever you are.
Available for iOS and Android
24me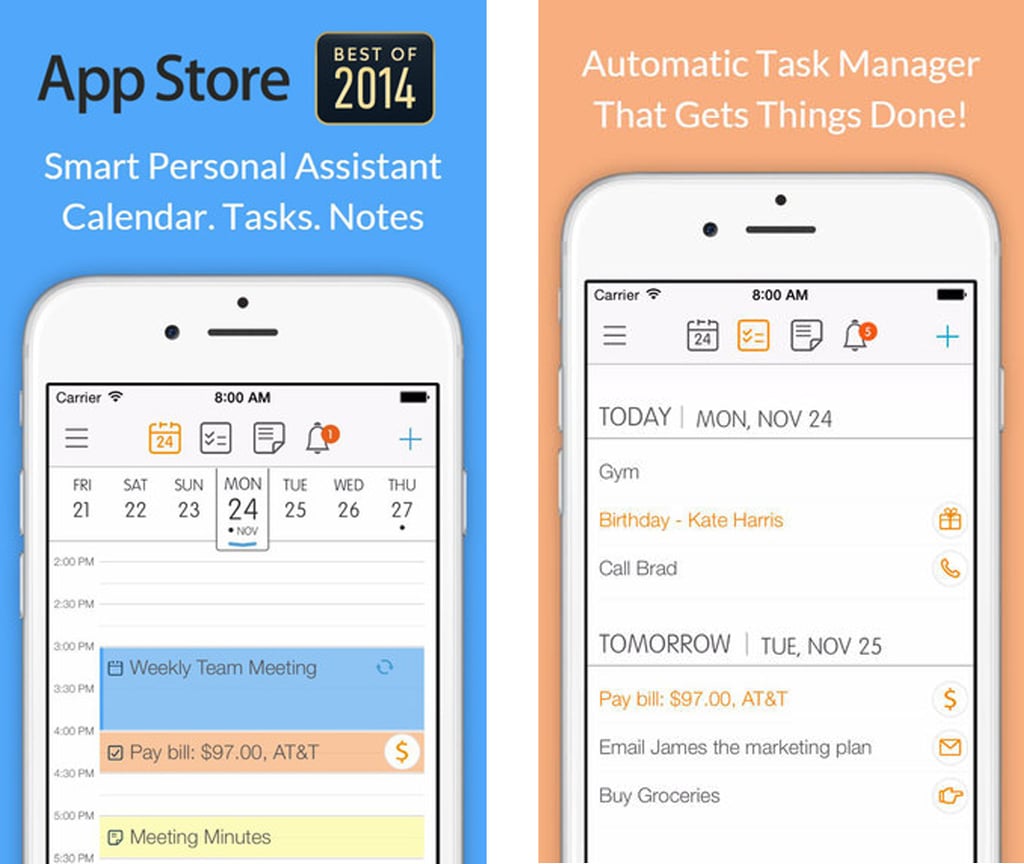 If you've ever needed a personal assistant, consider downloading 24me [4], a smart and automatic task-handler that can do almost everything you'd want an assistant to do. Your calendar, to-do lists, personal accounts, and notes are centralized in one place, and your day-to-day errands are completed by one tap. Receive billing, event, and birthday reminders or have the app pay your bills and send gifts to friends. 24me even lets you know what time you should leave for your meeting based on current traffic.
Available for iOS and Android
Evernote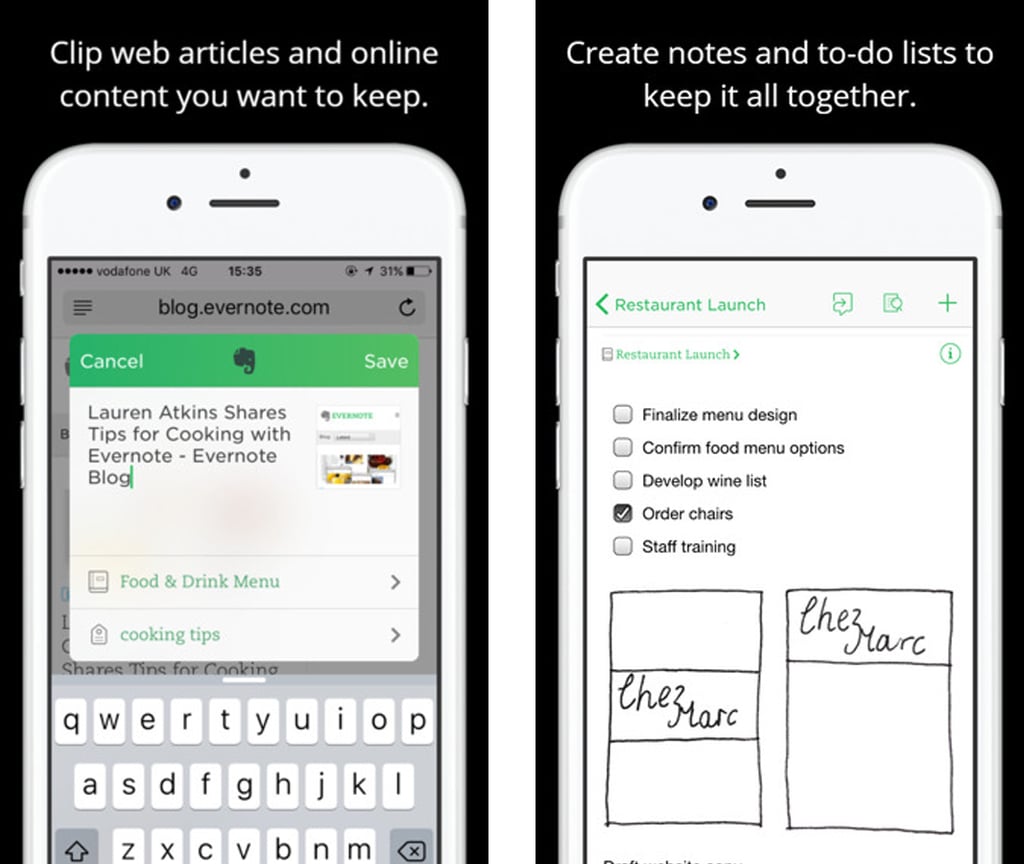 Your projects, notes, to-do lists, and saved items from the Internet are all synced on Evernote [5], allowing you access on any of your devices. Ideas including sketches, text, audio recordings, videos, and PDFs are organized into notebooks, and you can even use your smartphone camera to scan documents. Collaborate and share ideas with group members and annotate images to provide feedback on projects.
Available for iOS and Android
LastPass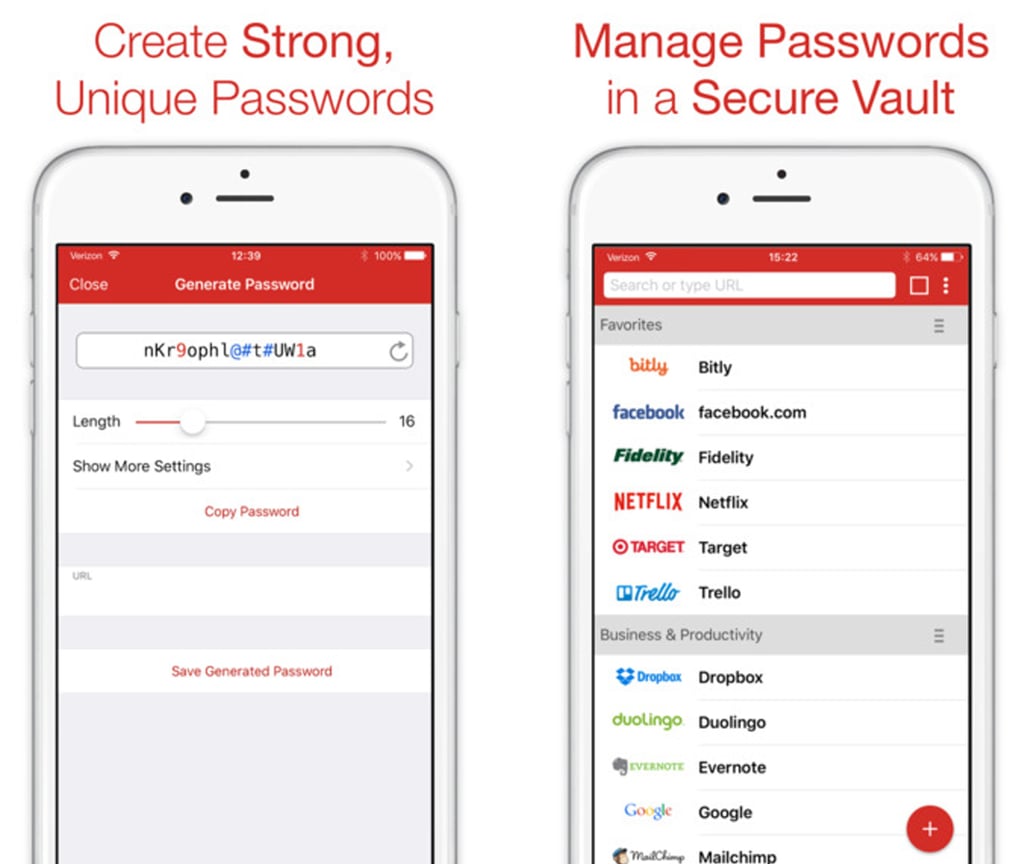 Never forget your passwords again with LastPass [6]. The app securely stores all your usernames and passwords, which you can access using TouchID or with one master password. It can also autofill your information and help you generate strong passwords. Quickly search any of your stored accounts and memberships in organized folders in your vault, which can also be shared with friends and family you give emergency access to.
Available for iOS and Android
Pocket
While browsing the web, save any articles, videos, or links to Pocket [7] and check them out later. Whether you find something interesting on Facebook, Twitter, email, or Safari, all saved clips sync across your devices. Enjoy a unique reading experience on the app that's customizable based on your reading style and receive personalized new content for you to discover. Pocket can even read aloud to you with its text-to-speech feature.
Available for iOS and Android
SimpleMind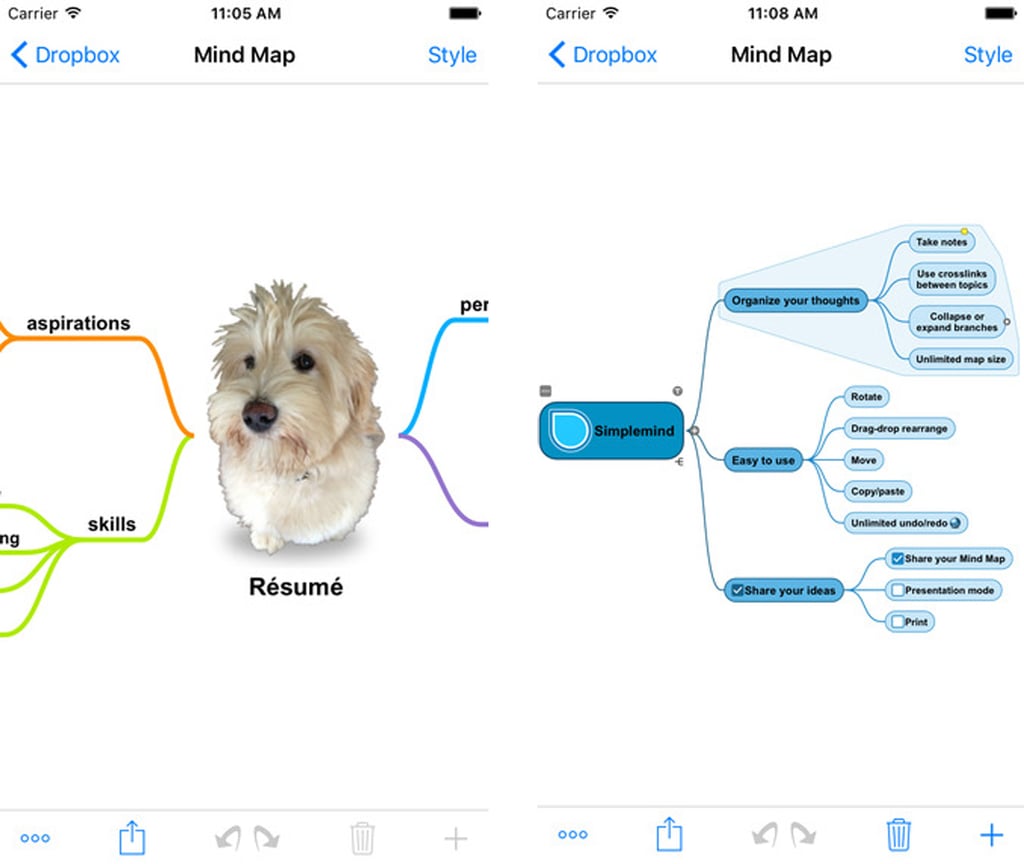 Brainstorm anytime, anywhere with SimpleMind [8], a digital mind map that provides a space for all your ideas. Drag, arrange, and edit information easily and insert images and visuals for a presentation. Sync your Mind Maps to Dropbox where you can store and edit or email them to yourself in PDF, text, or PNG formats.
Available for iOS and Android
Remember the Milk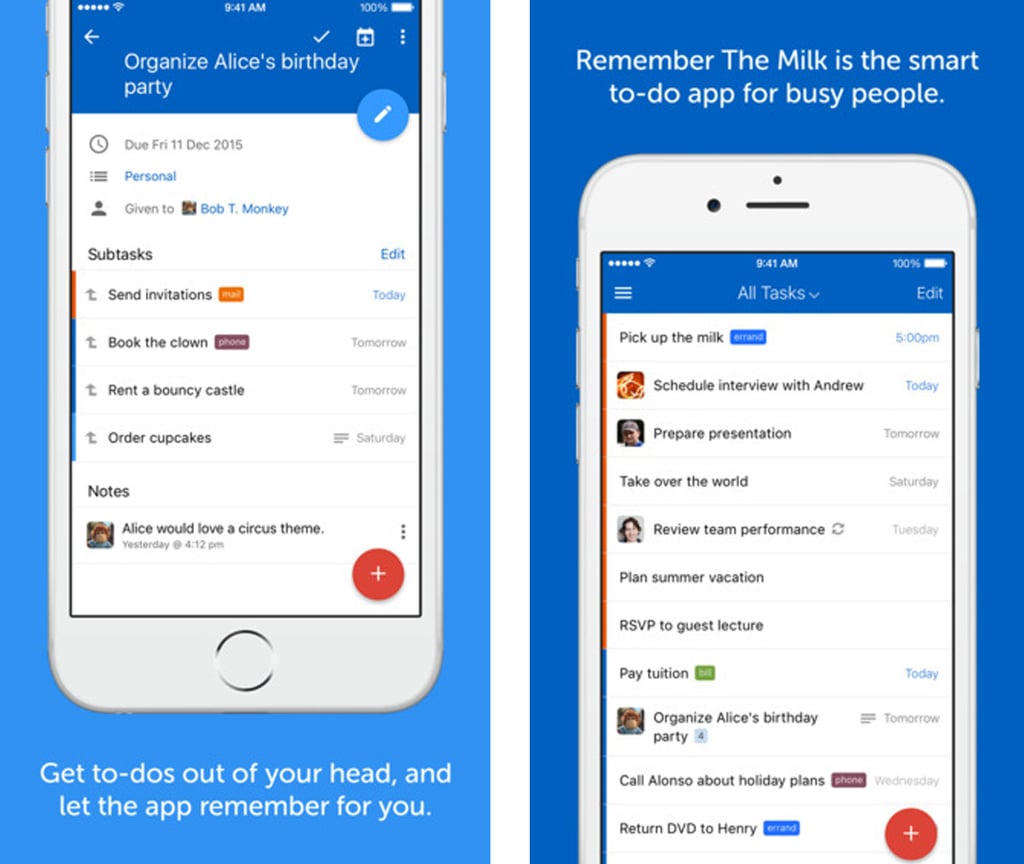 Create smart to-do lists on Remember the Milk [9] and receive reminders via email, IM, text, Twitter, or mobile notifications. You can prioritize and organize your tasks by due dates, tags, or importance and assign tasks to others. Gmail, Twitter, Google Calendar, Evernote, and other services are integrated and all your information is synced to your devices.
Available for iOS and Android
Sunrise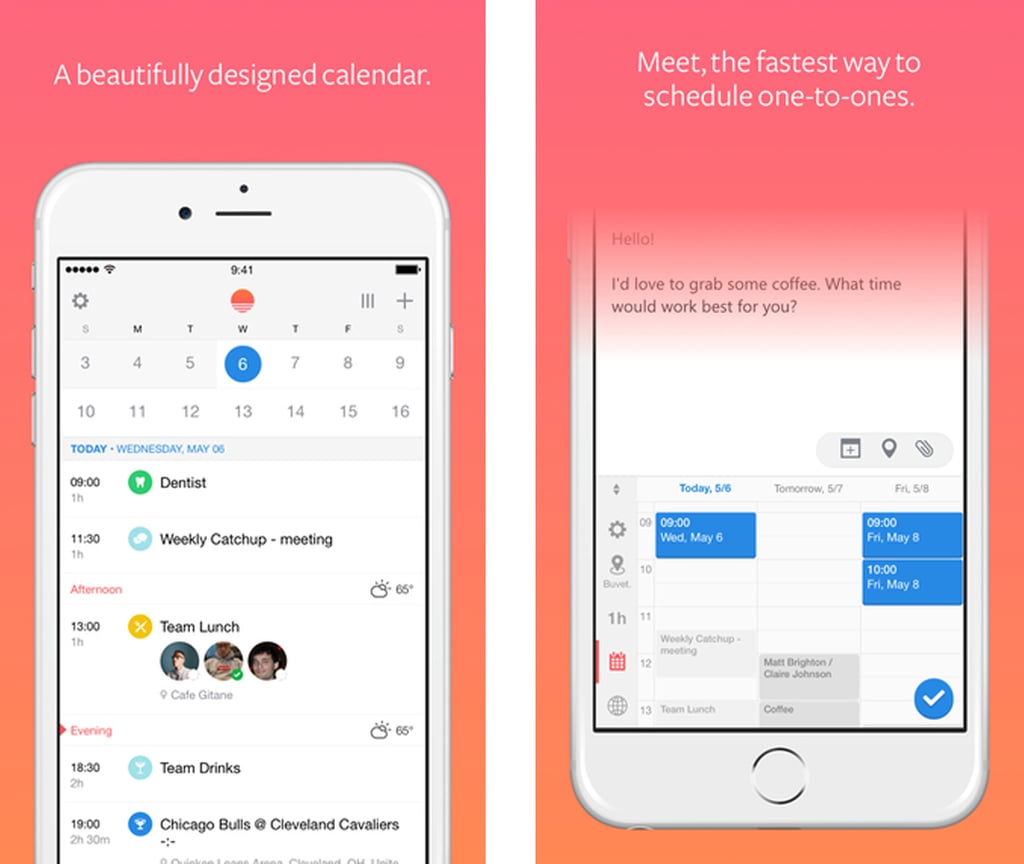 Sunrise [10] is a central calendar that connects your apps including Facebook, Trello, Evernote, and more. Keep track of your daily schedule, plan your next trip, and schedule meetings from any messaging app by sending recipients a link to an available time slot. Sunrise provides the weather forecast based on your location, directions from Google Maps, and puts faces to people you're meeting from their LinkedIn and Twitter profiles.
Available for iOS and Android
Todoist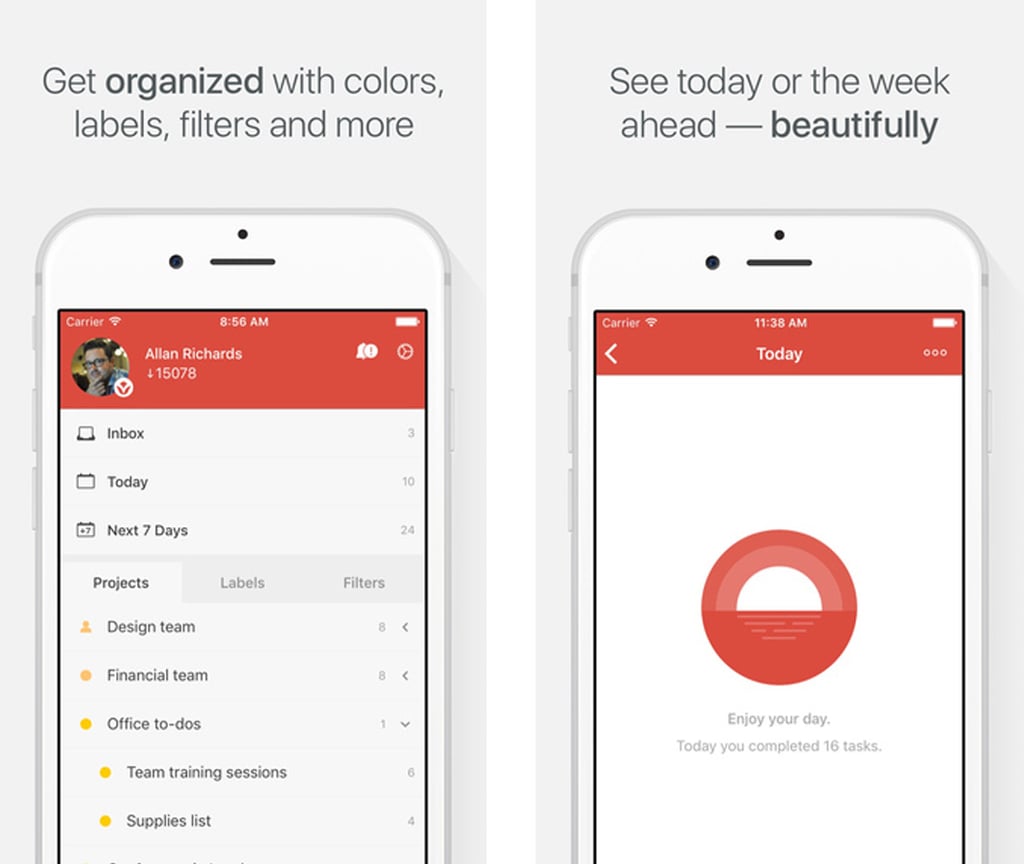 A simply designed app that helps you keep track of your projects and prioritize tasks, Todoist [11] does it all. Add, complete, and reschedule tasks with drag-and-drop scheduling and set due dates. Organize lists according to color or prioritize by sub-projects and sub-tasks. Not only can you easily share projects and lists with others but you can also set weekly and monthly goals.
Available for iOS and Android
Wunderlist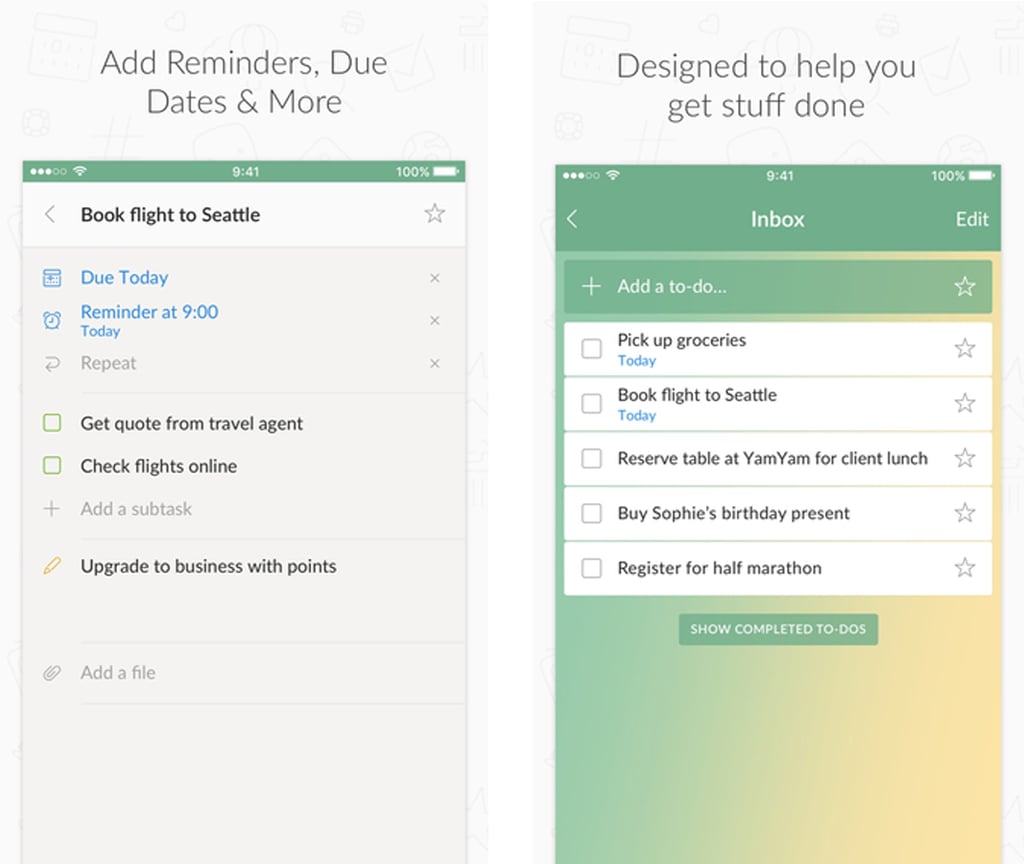 Wunderlist [12] helps you organize and schedule your to-do's from any of your devices. Always remember deadlines and tasks by setting reminders and due dates. You check out your lists by swiping down from any app. Bonus: you can share your tasks with others to collaborate and even save articles and links to view later. Wunderlist also allows you to attach files, comments, and notes to each task so you don't miss out on any details.
Available for iOS and Android