Driverless Cars Dubai Sustainable City
This Dubai Neighborhood Will be Home to Driverless Cars as Soon as Next Month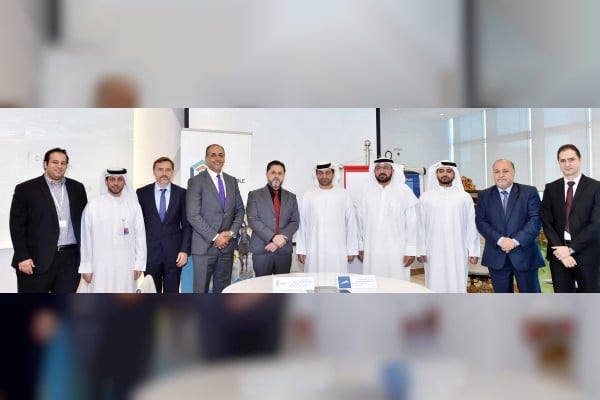 We know that flying taxis are set to arrive in Dubai at any minute, but before they take to the skies, RTA has announced another thoroughly modern project that will be unveiled in the city just next month.
The RTA and the Sustainable City Project have signed a Memorandum of Understanding (MoU) which will allow for the operation of autonomous vehicles within the project's facilities, in Dubai Land, beginning next month.
Both the RTA and the Sustainable City Project support Dubai Government's strategy to convert 25 percent of the city's public transport to driverless by 2030, and the adoption of these vehicles is seen as a step toward that goal.
Abdullah Yousef Al Ali, CEO of Licensing Agency cum Deputy Chairman of Autonomous Vehicles Committee and Faris Saeed, CEO of Diamond Developers (Developer of The Sustainable City Project) signed the MoU at RTA head office.
"The MoU underscores RTA's commitment to engage in partnerships with public and private sectors to realise its strategic, smart mobility objectives. It reflects the cooperation and partnership between the RTA and Sustainable City and supports the Smart City initiative as well as our government directives to transform 25 percent of public transport means into driverless transit modes by 2030," said Al Ali. "The MoU calls for studying the location of operating the autonomous vehicle in The Sustainable City project in Dubai Land, Al Qudra Road, and providing the infrastructure needed for the start of operation."
Saeef chimed in as well: "We are pleased with the enhanced strategic cooperation with the RTA in supporting the Dubai Government plan for transforming 25 percent of public transport means into driverless modes by 2030. The integrated efforts of public and private sectors, and the exchange of experiences in support of sustainable development that conserves the environment will serve the joint interests of making Dubai the best destination for living and business."
Though it may be the first, it's not the only place we'll be seeing driverless vehicles in the near future.
Bluewaters Island, which is home to the world's largest ferris wheel, Ain Dubai, will also have driverless buses to help make transportation seamless and safe.
Image Source: WAM.ae