Dubai Breaks Three World Records at One Time
Of Course Dubai Just Broke Three World Records at Once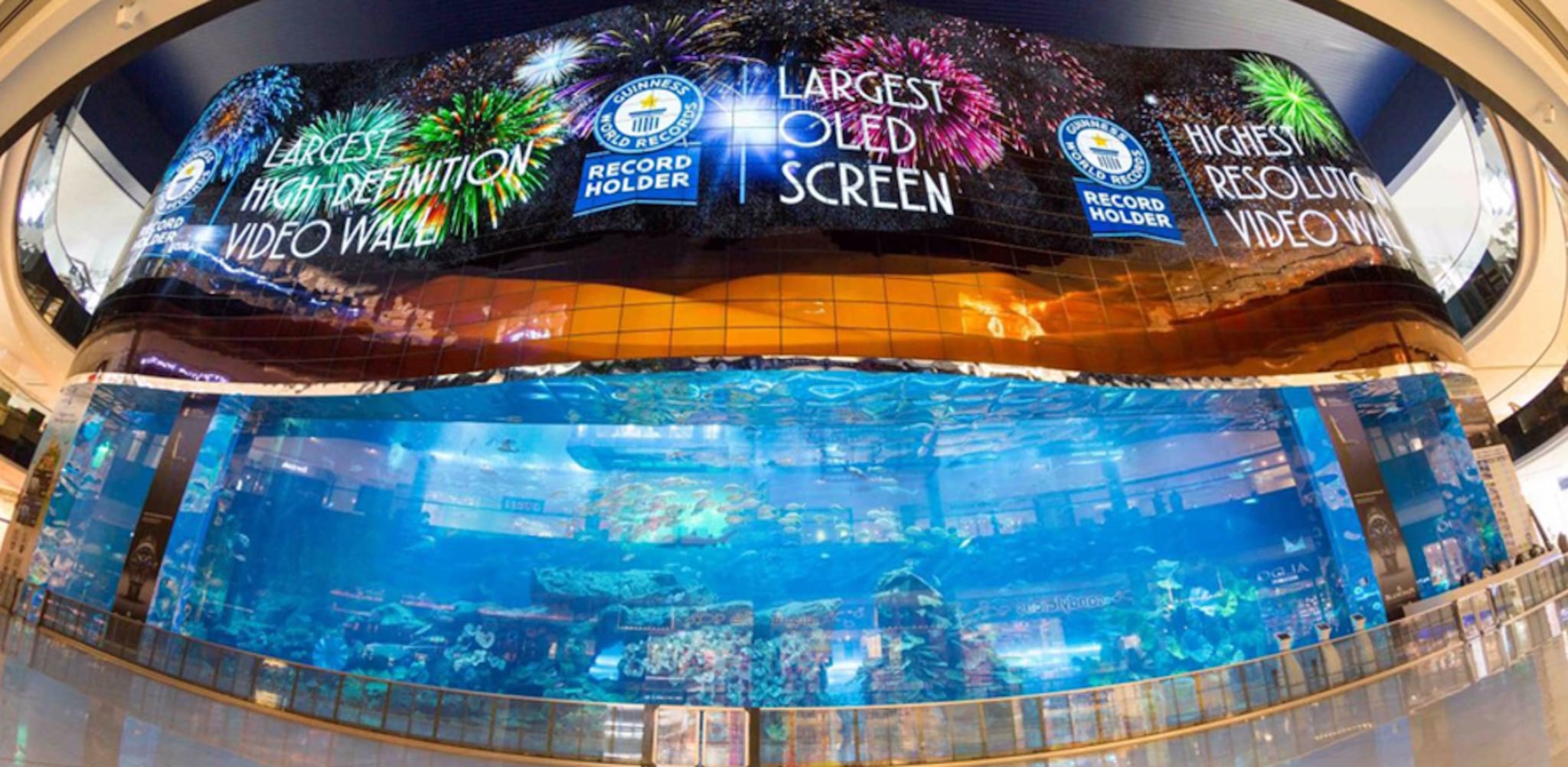 Dubai is home to a number of world records. From the world's tallest building to the world's largest mall, this city is no stranger to accolades.
Now, a new addition at the Dubai Mall has shattered three world records at once, which might even be a record itself! The OLED screen, which has been installed above the Underwater Zoo, is made of over 820 flexible OLED panels, "allowing the screen to emit light without the need for backlighting," Emaar reports. "With the thin and flexible high-definition screen providing wider viewing angles, to make the most of the breathtaking images and captivating colours. Truly unique to the Flexible Open Frame OLED signage from LG, the screen is able to curve, mimicking the rolling waves of the ocean, a perfect complement to the underwater creatures at Dubai Aquarium."
"Emaar Entertainment continues to push the boundaries and achieve greater highs through innovative installations and attractions," said Maitha Al Dossari, Chief Executive Officer of Emaar Entertainment.
"We're committed to delivering the best in the industry and are honoured that the new OLED screen at Dubai Aquarium & Underwater Zoo has received three Guinness World Records achievements, underpinning our commitment to pioneering innovative attractions, continued advancements in technology and digital attractions, and inspiring joy."
Even Guinness World Record's Country Manager for MENA got in on the hype, adding that the group is "very excited that Emaar Entertainment and LG have set multiple records today with the Largest OLED screen, Highest resolution video wall and Largest high-definition video wall.
"The multiple records perfectly complements the advanced technology that we know Dubai is known for, Guinness World Records congratulates Emaar Entertainment and LG. We are proud that Guinness World Records was able to yet again provide a platform to recognise and share amazing moments, always eager to showcase these records, and give companies or individuals a chance to be a part of an 'officially amazing' experience."
Go check it out now at the Dubai Mall!