Facebook's Tips For Maintaining Privacy Online
These 10 Tips Will Make Sure You're Never Worried About Facebook Privacy Again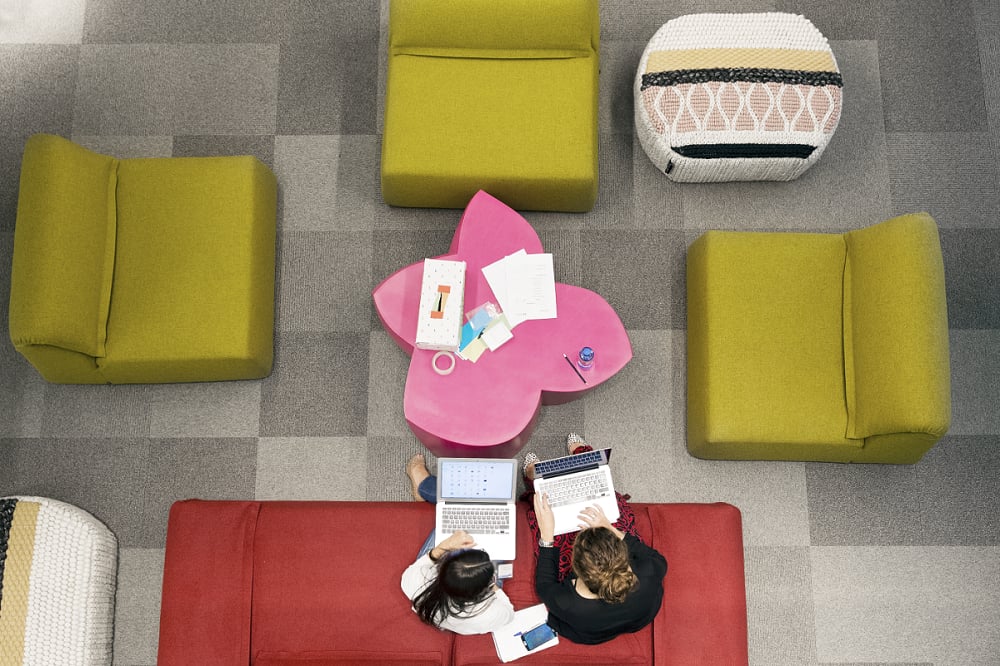 It's rare that you meet someone who isn't on Facebook, and while the social network is an ideal way to stay in contact with friends (new and old), there's no doubt that more and more of our personal information has crept on there as the years have gone by. And if you've ever logged into your account from another device or shared access to certain features when connecting an app, it's likely you would've lost control of who can see your friends list or post to your timeline.
That's where Facebook's tips for regaining control of your privacy settings come in handy. If you feel like your losing control of the constant updates on the website, here's how to begin your Facebook privacy clean-up.
Do a Privacy Checkup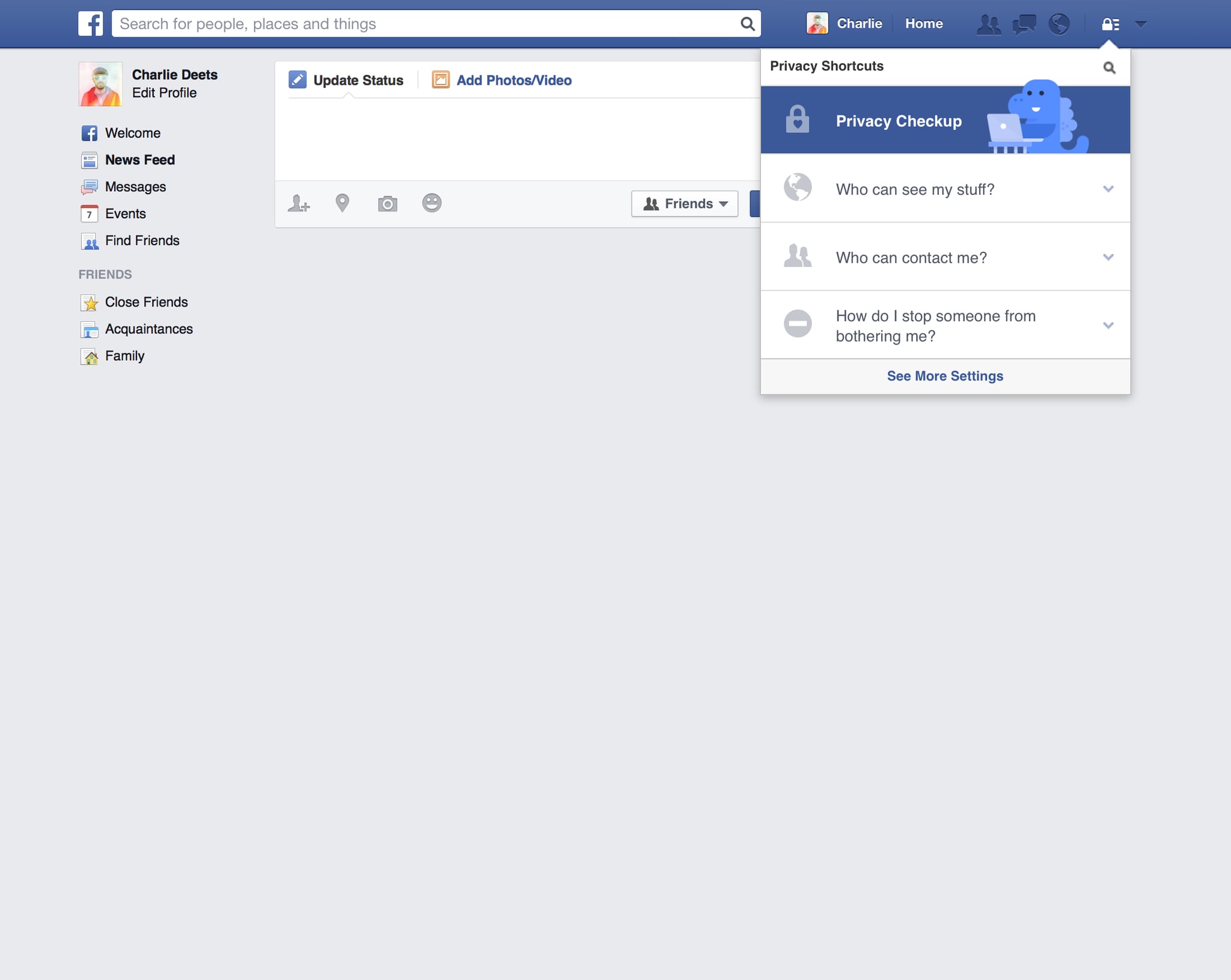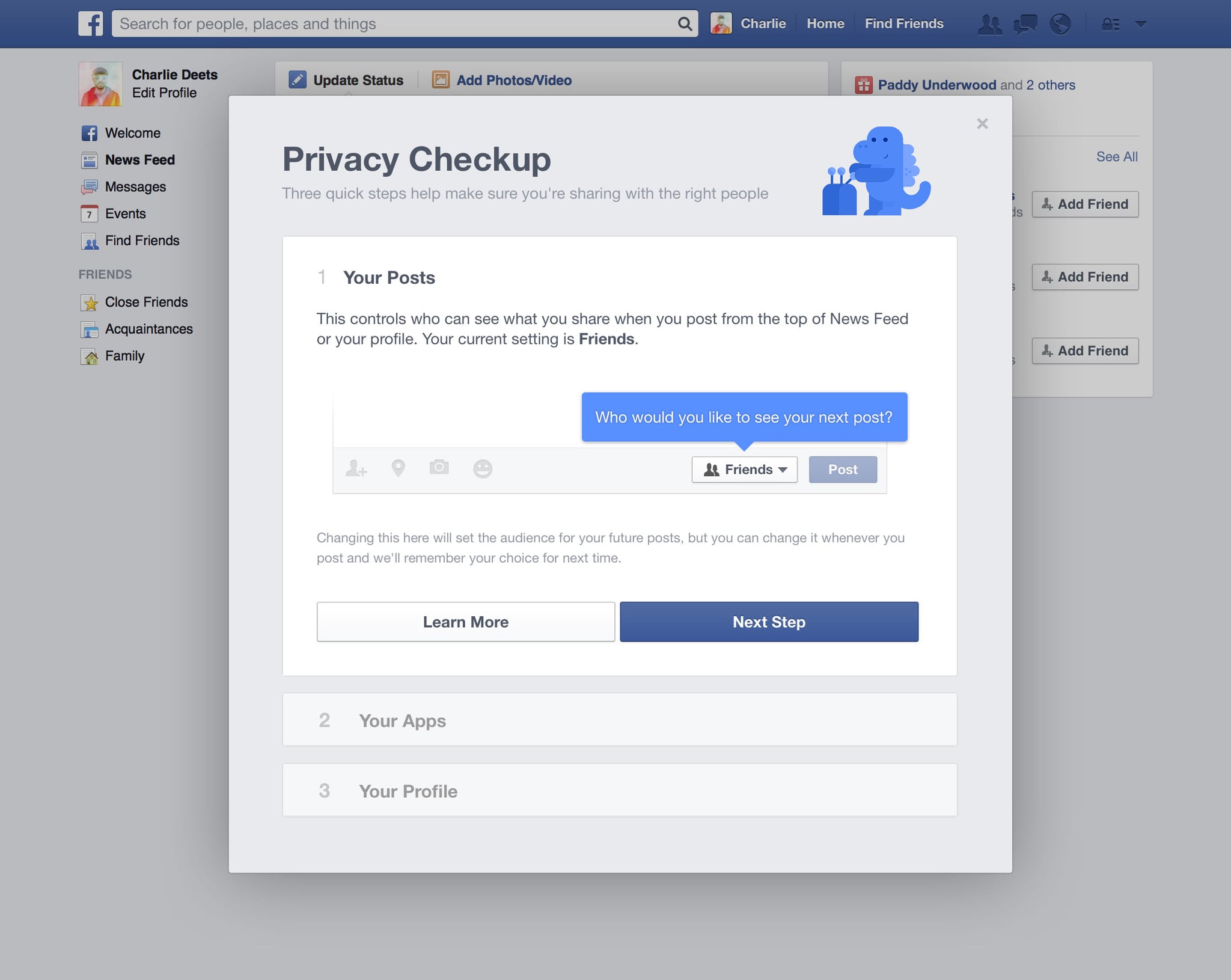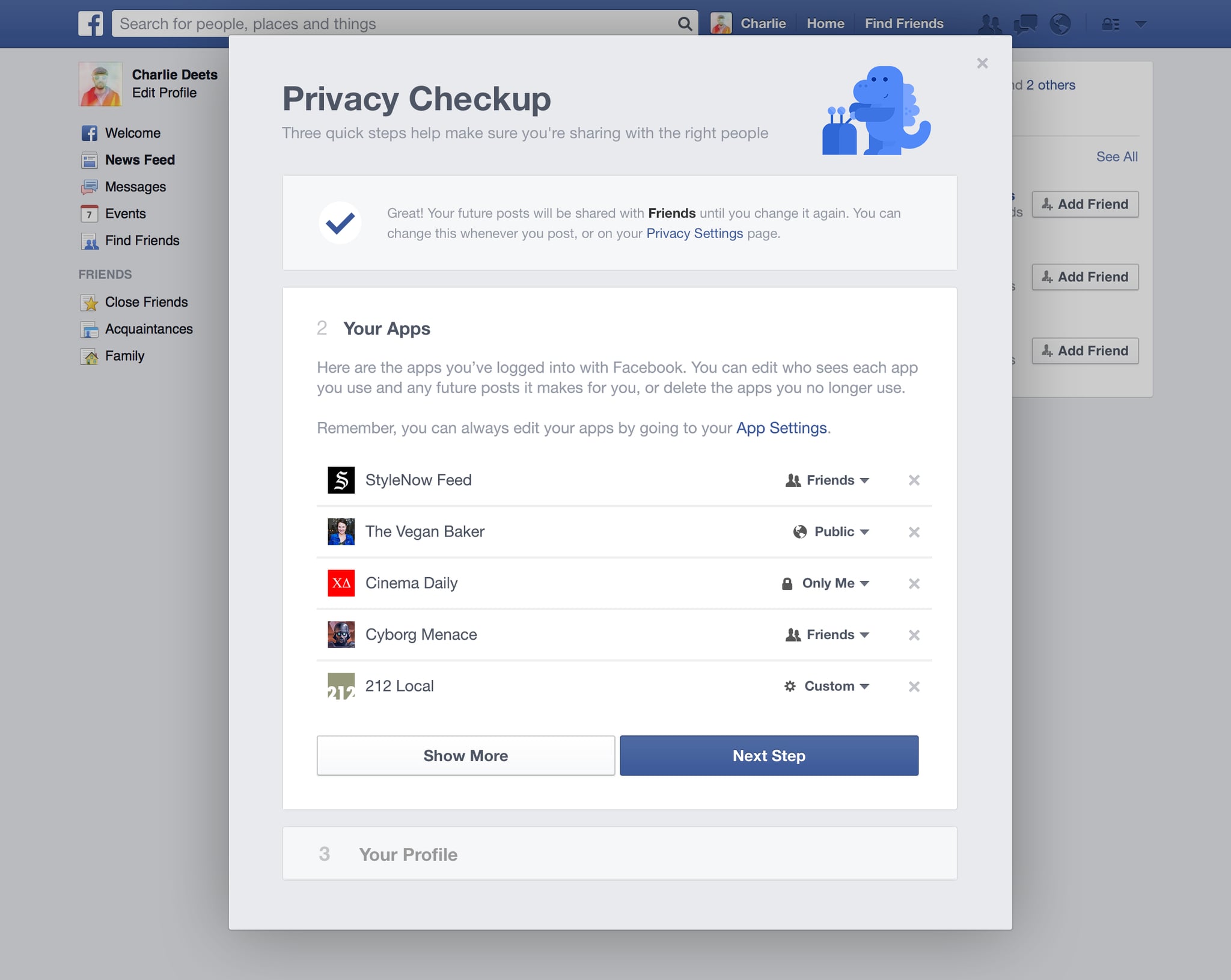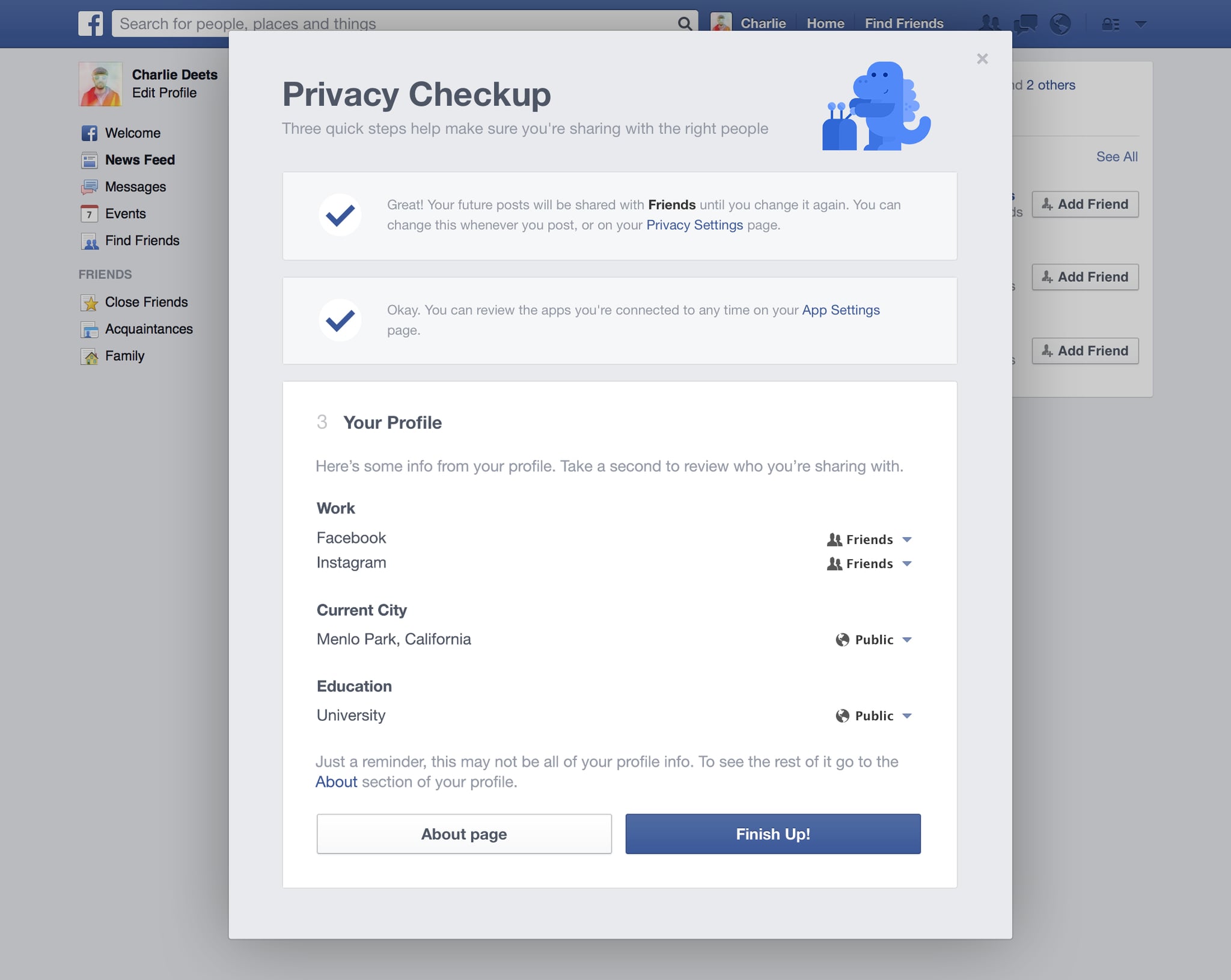 In three quick steps you can make sure only the people you want can see your posts. You can select who you're posting to, which apps you're using, and who see what information on your profile. 

You'll have to be using the desktop version for this so you can access Privacy Shortcuts which displays as the lock in the upper right hand corner of the screen.
Turn on Login Approvals
Two-factor authentication (2FA), login approvals provide an extra security step whenever you login from a new device. Facebook will send a notification or email with a special code to complete the login process. It's like if you're buying something online and your bank sends you a one-time password to enter to make sure it's you making the purchase. To set it up, go to "More" and tap "Settings." From there, select "Security Settings", and check the box next to "Login Approvals".
Set your Trusted Contacts
If you forget your password and can't get into your email account to reset it, this is where your Trusted Contacts come in. Whichever friends you choose will receive special, one-time security codes from Facebook. Go to your "Security Settings," click "Trusted Contacts" and select 3-5 friends who will help you restore your account.
Do a Security Checkup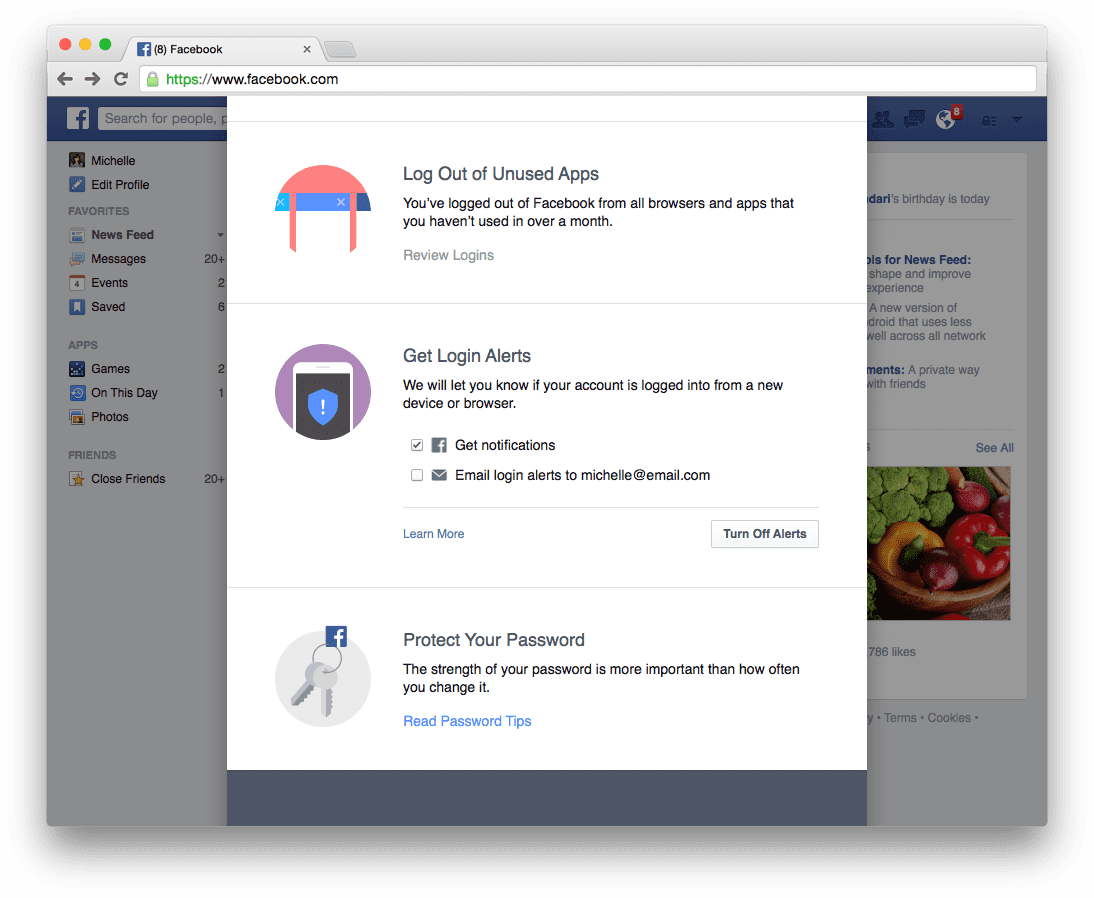 This recently-launched feature is currently only on the desktop version but is coming to mobile soon. You can use it to log out of devices you haven't used in a long time (handy if old devices have new owners or you were borrowing someone else's). If you turn on Login Alerts, you'll get a notification or email if someone tries to log into your account from an unfamiliar device or browser. The feature also encourages you to create a Strong & Unique Password.
Check which apps are connected to your account
Every now and then you should review the apps you have connected to your account so you're only left with the ones you trust and use regularly. Visit the App Settings page to discount from those you completely forgot you ever used.
Control information connected apps have
Airbnb, Etsy, Nike+ Running… about 80% of the top 100 grossing apps have access to things like your likes, photos, birthday and hometown information. To limited what they have access to, when logging into an app using Facebook Login, just click "Edit the Info You Provide." Once you see a list of all the personal information the app is requesting from you, check or uncheck each piece of information, including whether the app can post on your behalf or not.
Review your activity log
If you're constantly paranoid that you posted or liked something accidentally, this will set your mind at ease. This will show all of your activity in date order, including posts you've commented on, friend requests you've accepted, check-ins or photos you've been tagged in. Only you can see your Activity Log. Visit your profile and click "View Activity Log" in the bottom-right corner of your cover photo.
Review tags that people add to your post
Approve or dismiss tags that people add to your posts before they appear. Click the top right of your Facebook page and select "Settings," then in the left column, click "Timeline and Tagging." Look for the setting "Review tags people add to your own posts before the tags appear on Facebook?" and click "Edit" to the far right. Select "Enabled" from the dropdown menu.
When tag review is enabled, you'll get a notification when you have a post to review. If you don't want your post to be visible to the friends of the person tagged, you can adjust this setting.
Use app passwords
If you don't want to connect to apps using your Facebook password, you can always use one-time passwords to keep your information safe. If you have login approvals turned on, you won't have to wait to receive a code when you use an app password. Instead, you can skip login approvals and log in immediately. To get an app password go to your "Security Settings", then in the "App Passwords" section, click "Edit", click "Generate app passwords" and then follow the on-screen instructions. Facebook will save a list of the apps you generate app passwords for, but won't save the passwords. If you log out of any of your apps, you'll need to generate a new password.
Control who can friend and follow you
Click in the top right of your Facebook page and select "Settings," then select "Privacy" in the left column. Next "Edit" the "Who can send you friend requests?" section and select an audience from the drop-down menu.
Image Source: Facebook