Funniest Tweets Best Picture Mixup
The Internet Was Shook After the Wrong Winner Was Announced For Best Picture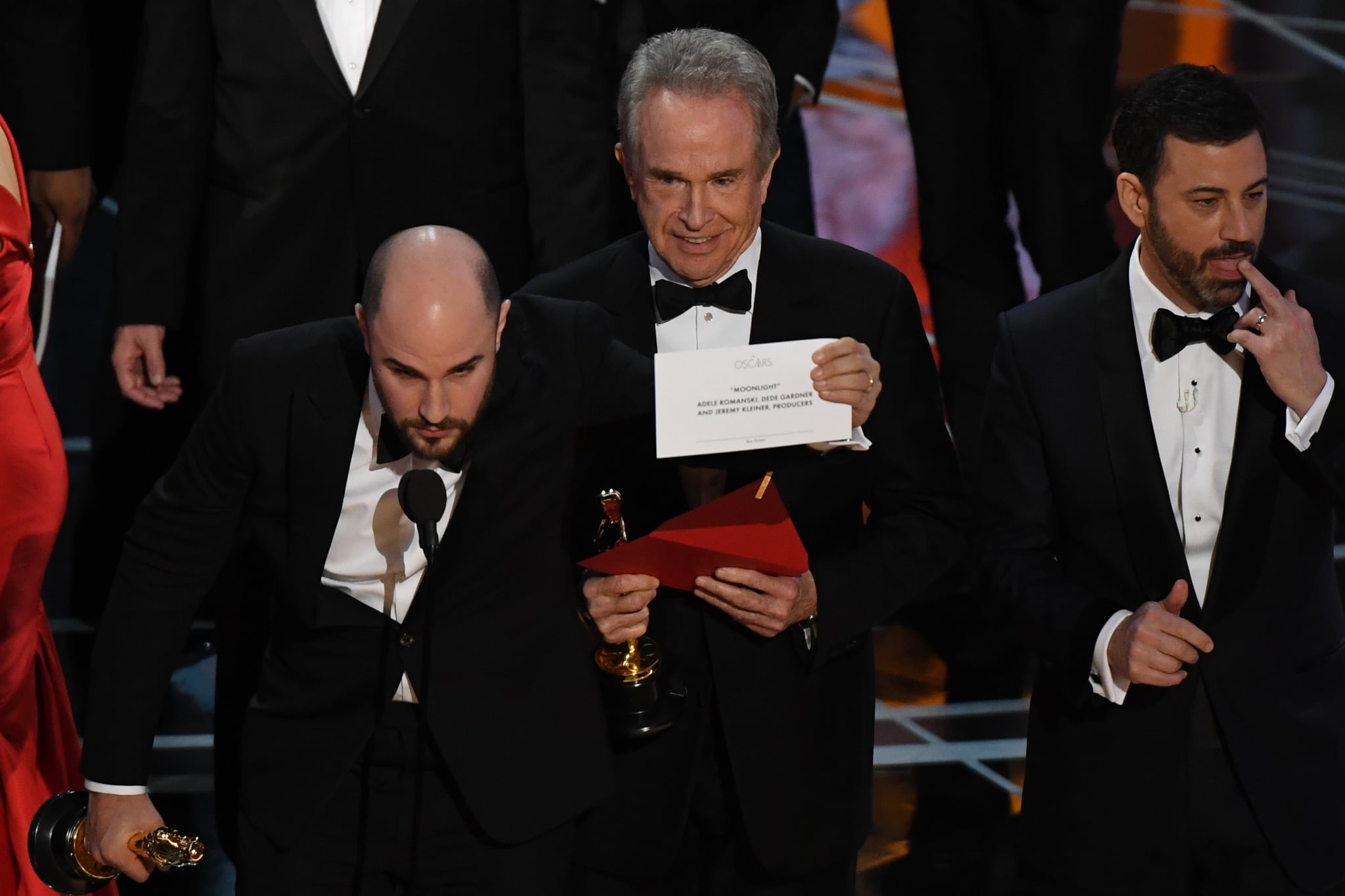 The Oscars are always full of surprises and this year was no exception. When Faye Dunaway called out La La Land as the winner for best picture, the cast and crew went on stage to say their thanks. That's until, Jordan Horowitz, realizes the mistake and announces that the real winner is Moonlight. The internet then totally lost it.
PLOT. FUCKING. TWIST.

— Andi Zeisler (@andizeisler) February 27, 2017
People immediately wanted this to happen with the election.
DID THEY ALSO READ THE ELECTORAL COLLEGE VOTES INCORRECTLY???

— Ashly Perez (@itsashlyperez) February 27, 2017
OK NOW DO THIS WJTH THE PRESIDENT

— Jon Cozart (@JonCozart) February 27, 2017
Others thought Ryan Gosling knew the whole time.
GOSLING KNEW. pic.twitter.com/Ps5214V0sr

— Mina Kimes (@minakimes) February 27, 2017
Mostly, though the internet couldn't believe it.
Warren Beatty just pulled a Steve Harvey. MOONLIGHT won Best Picture. Unreal. #Oscars

— Marlow Stern (@MarlowNYC) February 27, 2017
id like to think that i could be as clear and gracious as the guy who told everyone moonlight won? more likely i would cry and throw up

— Max Read (@max_read) February 27, 2017
The Miss Universe organization weighed in.
Have your people call our people - we know what to do. #Oscars #MissUniverse

— Miss Universe (@MissUniverse) February 27, 2017
Others were glad Moonlight won.
The LaLa Land guy was like "let's keep making movies that celebrate diversity" and God was like, Hmm I have an idea

— David Rees (@david_rees) February 27, 2017
Can't wait to see what happens next year!
What an ending to the last Oscars ceremony ever

— Dave Itzkoff (@ditzkoff) February 27, 2017
Image Source: Getty / Mark Ralston