How Facebook Tracks You
The Way Facebook Targets Ads is Even Creepier Than You Think

We've all browsed online for an item only to see the same piece of clothing or electronic device pop up on our Facebook ads. It's slightly annoying, and also a bit unsettling, but the real way that Facebook collects all that info (and way more) is even crazier than it appears.
The Washington Post explained how Facebook tracks users pretty simply: "While you're logged onto Facebook, for instance, the network can see virtually every other website you visit. Even when you're logged off, Facebook knows much of your browsing: It's alerted every time you load a page with a "Like" or "share" button, or an advertisement sourced from its Atlas network. Facebook also provides publishers with a piece of code, called Facebook Pixel, that they (and by extension, Facebook) can use to log their Facebook-using visitors."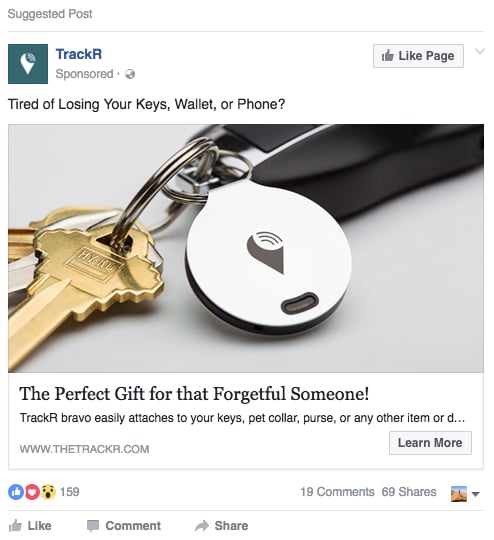 So basically, by tracking your browsing habits, Facebook is able to glean information about the minutiae of your life. What this means, I guess, and what you can see from the insanely specific ads that appear on your feed, is that it is Facebook, and not your mother or your best friend or your boyfriend, who knows you better than anyone else.
Facebook uses 98 personal data points to track you-- and they're even crazier than you think. Check out some of the most surprising ones below, and find a full list here.
1. Users who bought auto parts or accessories recently
2. Users who are likely to need auto parts or services
3. Style and brand of car you drive
4. Year car was bought
5. Users who are active credit card users
6. Credit card type
7. Users who have a debit card
8. Internet connection type
9. Users who recently acquired a smartphone or tablet
10. Users who access the Internet through a smartphone or tablet
11. Users who use coupons
12. Types of clothing user's household buys
13. Time of year user's household shops most
14. Users who are "heavy" buyers of beer, wine or spirits
15. Users who buy groceries (and what kinds)
16. Users who commute to work
17. Types of vacations user tends to go on
18. Users who recently returned from a trip
19. Users who recently used a travel app
20. Users who participate in a timeshare
Image Source: POPSUGAR Photography