Muslim Woman Takes Selfie at Protest
This Muslim Girl's Reaction to an Anti-Muslim Protest Was Hilariously Clever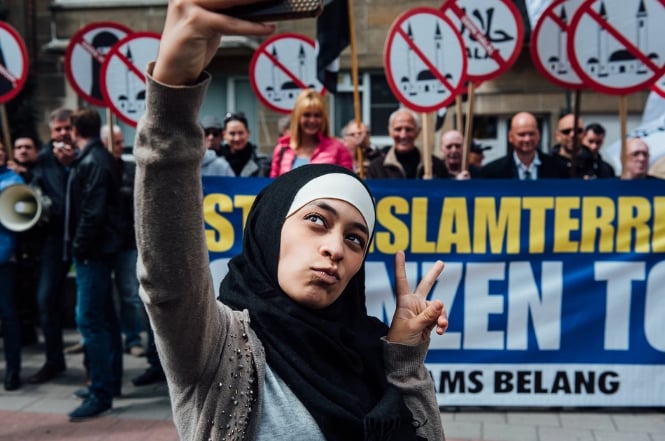 When a far-right anti-Islamist group called Vlaams Belang began protesting at the Muslim Expo in Antwerp yesterday, a 22-year-old Muslim girl had the best response.
With her hijab firmly in place, Zakia Belkhiri stood in front of the protesters, and began snapping selfies. The photos have since been retweeted around the world.
Speaking to BBC Trending, Belkhiri explained what motivated her to take the selfies: BBC "[I took them] to show that things can be different. And that we can live together, not next to each other but with each other."
Protesters outside the expo, which celebrates Muslim culture, were holding signs that read "no mosques", "no headscarves", and "stop Islam"-- but their hate didn't deter Belkhiri. Since then, she's been tweeting about the incident, which has been making headlines.

There will be always people who can't stand me or hate me but why judge? I'm just a kid nothing special we are all human and one! 🙌🏽🙌🏾🙌🏻

— Zakia Belkhiri (@rabiosaaloca) May 18, 2016
Belkhiri insists that her selfies weren't in any way a protest. "This wasn't a protest at all," she told BBC, "this was just to share joy and peace." Onlookers captured in the background of her photos seem to be amused, and Internet reactions have been generally positive, as well.
To whoever ever made this pic you're awesome ! 😜😄 pic.twitter.com/14ES5LNLca

— Zakia Belkhiri (@rabiosaaloca) May 18, 2016
Way to go to this young activist for being brave enough to stand up to protesters in the most peaceful and perfectly millenial, way!
Image Source: Jurgen Augusteyns