Sheikh Mohammed Most Poplar on Twitter UAE in 2017
Here's Solid Proof the UAE's Sheikh Mohammed Won Twitter This Year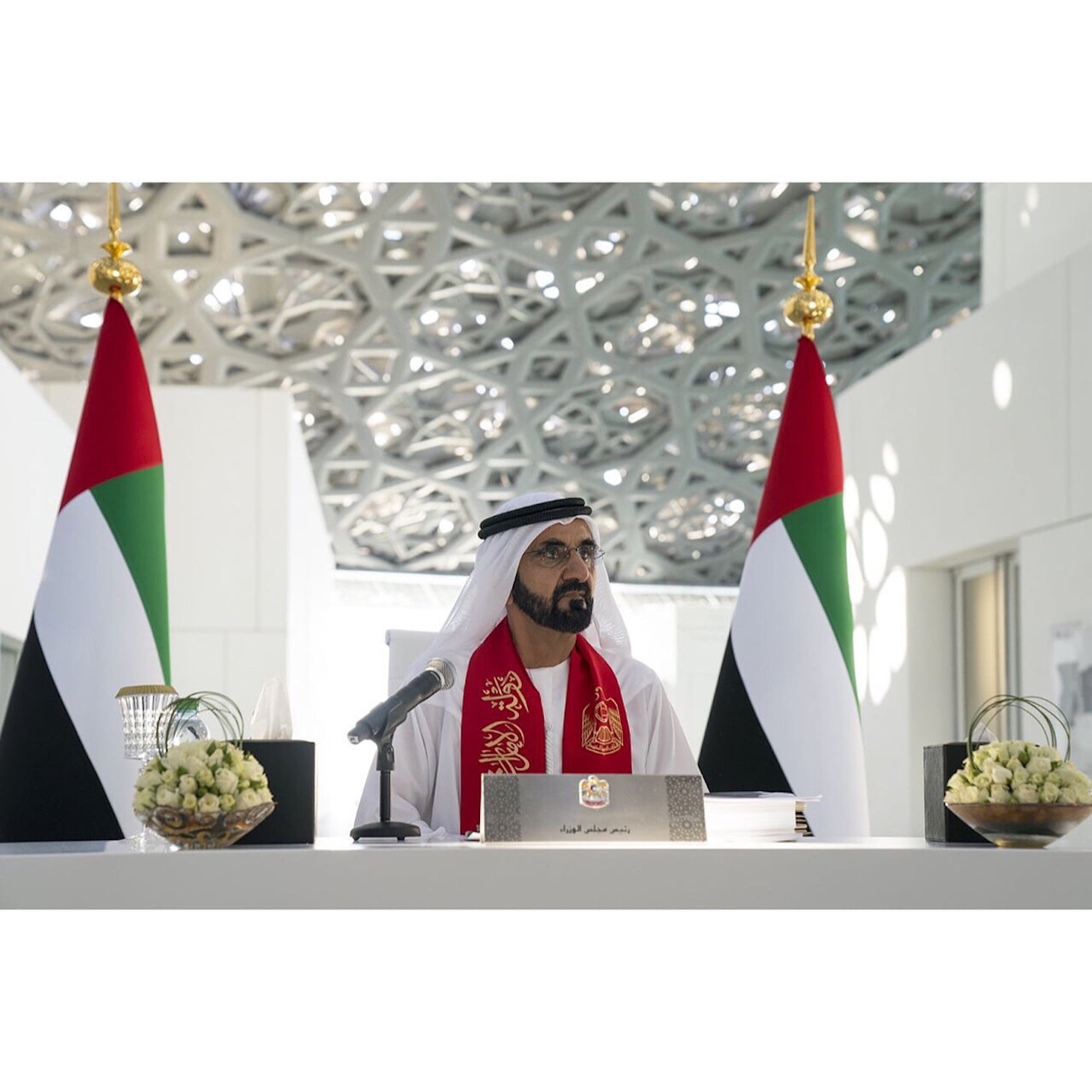 He's the tenth most followed leader in the world according to Twiplomacy, so it shouldn't be a surprise that Sheikh Mohammed bin Rashid al Maktoum totally ruled Twitter in the UAE this year. The Dubai-based royal has approximately 8.5 million followers on the social media platform and from January 1 to November 17 was the most retweeted personality in the United Arab Emirates.
It's all down to two big posts, one being his congratulations to Saudi Arabia and Egypt for qualifying at the 2018 World Cup and the other celebrating HH Sheikh Zayed's birthday. Many of Sheik Mo's big announcements have come via Twitter, which is probably why he has one of the most followed accounts in the UAE.
His top moments include announcing the UAE Cabinet restructure as well as the inauguration of the Ministry of Artificial Intelligence and Ministry of Food Security. He has also spoken about the country's mission to send humans to Mars via Twitter.
ألف مبروك صعود رجال المملكة .. رجال سلمان لمونديال ٢٠١٨ . منتخب يستحق أن يمثل العرب ..ألف مبروك لخادم الحرمين الشريفين وللشعب السعودي الحبيب pic.twitter.com/OLzXHAjzoq

— HH Sheikh Mohammed (@HHShkMohd) September 5, 2017
مبروك يا مصر .. ومبروك لكل العرب .. صعود المنتخب لكأس العالم .. ليلة عربية جميلة .. أفرحتم قلوبنا من المحيط للخليج.. كبيرة يا مصر دايماً pic.twitter.com/s4ilYFeM4f

— HH Sheikh Mohammed (@HHShkMohd) October 8, 2017
مائة عام مرّت على ميلاد قائد، وأب، وباني أمة ومؤسس دولة .. مائة عام سيحفظها التاريخ .. وسيخلدها الشعب وستلهم الأجيال لمئات السنين القادمة pic.twitter.com/5T0DkKG5pQ

— HH Sheikh Mohammed (@HHShkMohd) August 5, 2017
Elsewhere in the country, the retweets challenge of 2017 garnered lots of attention after Carter Wilkerson called for a year's supply of Wendy's prompting people locally to start similar challenges.
When a Dubai banker asked du to take 25 orphans to the movies to see Boss Baby, they offered 50 tickets, with Vox Cinemas later doubling the amount to 100, even supplying free Pepsi and popcorn.
See below for other top accounts and hashtags in the UAE for 2017:
Top National hashtags:
1. عام_الخير# (Year of Giving)
2. يوم_العلم# (Flag Day)
3. عام_زايد# (Year of Zayed)
4. اليوم_الوطني# (National Day)
Top Sports hashtags:
دوري_الخليج_العربي# (Arabian Gulf League)
الهلال# (Al Hilal)
ريال_مدريد# #halamadrid (Real Madrid)
برشلونة# (Barcelona FC)
Top Football Team handles:
@Alainfcae (Al Ain Football Club)
@ManUtd (Manchester United Football Club)
@AlWaslSC (Al Wasl Soccer Club)
@AlWahdaFCC (Al Wahda Football Club)
Top Arab Celebrity handles:
@AhlamAlShamsi (Emirati singer)
@Nadinenjeim (Lebanese actress)
@elissakh (Lebanese singer)
@MohammedOSaad (Egyptian singer)
Top International Celebrity handles:
@Aldenrichards02 (Alden Richards: Filipino actor)
@Iamsrk (Shah Rukh Khan: Indian actor)
@Harry_Styles (English singer)
@justinbieber (American singer)