Tips For Buying a Wedding Dress Online
The Hassle-Free Guide to Buying Your Wedding Dress Online
Shopping for a wedding dress can be equal parts amazing and totally stressful experience. Trying on several dresses a day for a few solid weekends is enough to wear a bride out, especially if she can't find the perfect fit. While you could virtually try on thousands of gowns, thanks to Brides.com and TLC, your other option is to shop online for your dream dress.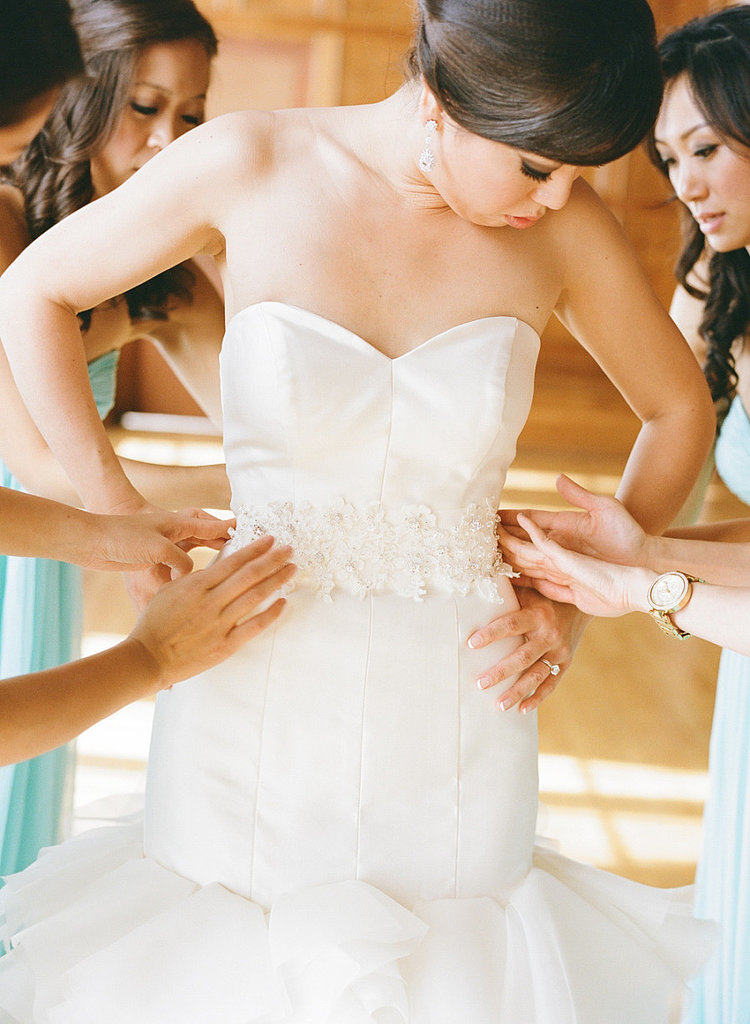 Photo by Esther Sun Photography via Style Me Pretty
Don't think it's possible to find the perfect gown online? Emily Newman of the fabulous Once Wed gave us tips and advice on how to do it right. Spoiler: it's easier than you think!
POPSUGAR: What should a bride know before starting her online search (i.e. measurements, the type of shoe she will be wearing, etc.)?
Emily Newman: The first thing a bride should know is what type of style she is going for on her wedding day. The dress can really set the tone and mood for the entire wedding day and should coordinate appropriately. For example, if she is having an outdoor garden wedding, then a tea-length dress would be sweet. However, if the wedding is inside a formal hotel ballroom, then she might be better suited in a full-length gown. Of course, nothing is set in stone, and some rules are meant to be broken.
PS: What are some potential pitfalls when going online to purchase a wedding dress?
EN: Unfortunately, there are a lot of scammers out there, so it is important to be cautious when it comes time to buying the actual wedding dress online. I always suggest using secure payment options when buying online. Never pay for a dress online with a check, wired money, money order, or cashier check.
PS: Once Wed is a great place to find hundreds of dresses, but do you recommend any other places to look for a gown online?
EN: You can check out sites like Preowned Wedding Dresses or the classified ads on Weddingbee. And, of course, there is always Ebay and Craigslist. All four have great options for designer wedding dresses for less.
PS: What kind of return policy should I look for on a wedding dress?
EN: It is common for sellers not to offer returns. In fact, you will find most sellers use policies like "All Sales Are Final." In cases where a seller does have a return policy, then it is standard for them to implement a five percent restocking fee. So, no need for alarm.
PS: Is it more difficult to find what you're looking for when you haven't tried anything on?
EN: Yes, I think the best thing a bride can do before shopping online is to try on some dresses in person. Get a feel for the type of style and fit that you prefer. Cap sleeves vs. strapless, or empire vs. A-line, etc.
PS: Do you have any additional tips for first-time brides who have never tried anything on but are looking to find a dress on a budget?
EN: Rule number one is be patient. When looking for a dress online, it takes time to find the perfect one. Eventually, the one you're looking for will pop up. And always be sure to use a secure payment option to purchase your dress online. Happy dress hunting!