Wizarding Schools in the Harry Potter Universe
JK Rowling Just Revealed Wizarding Schools in America, Japan, and More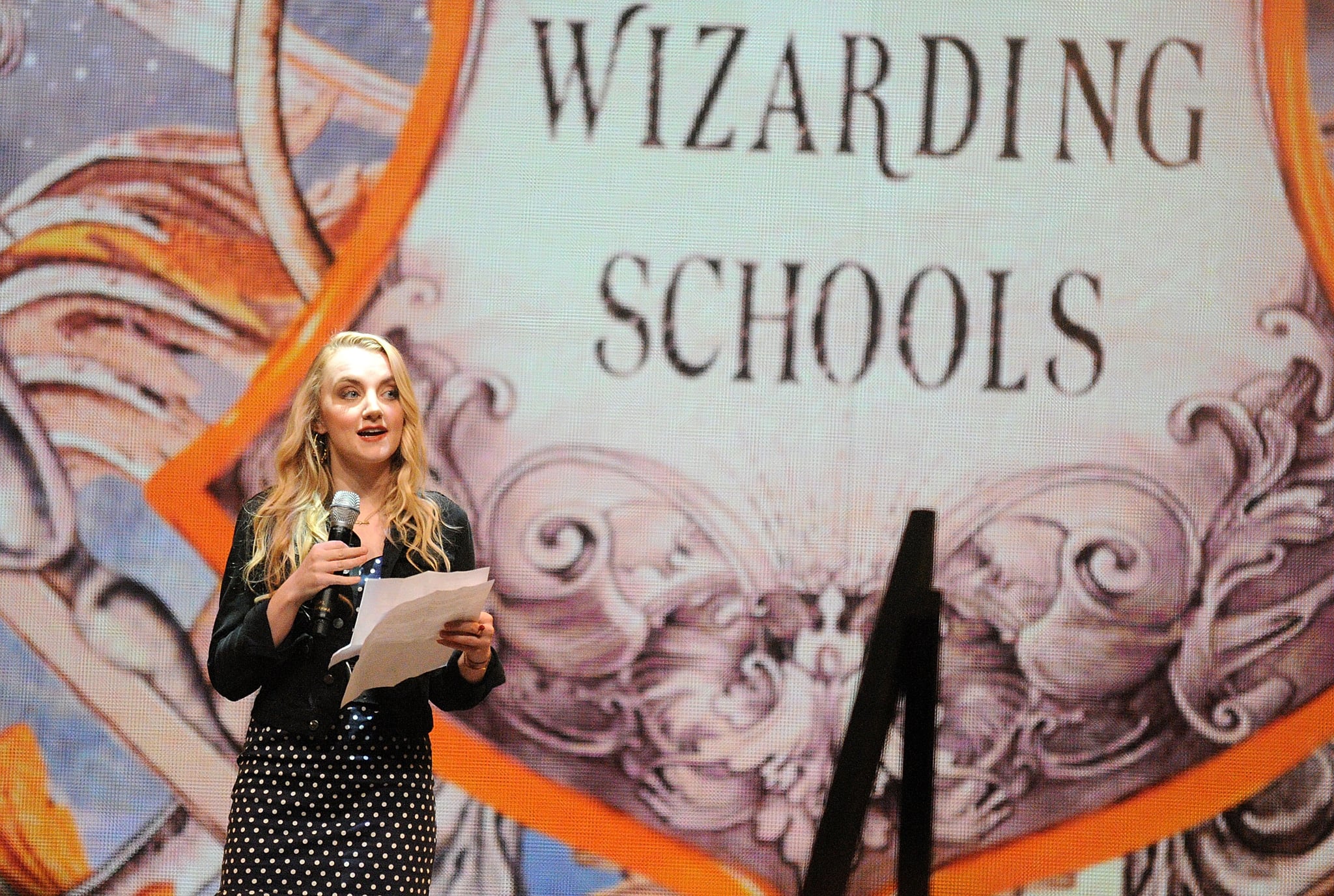 Ever since Harry Potter and the Goblet of Fire introduced Durmstrang Institute and Beauxbatons Academy of Magic, one of the biggest mysteries about JK Rowling's wizarding universe has been the extent of international magical education worldwide. But using both Pottermore and fangirl-turned-franchise-star Evanna Lynch (also known as Luna Lovegood) to share some huge news on Friday, JK Rowling has officially shed some light on more wizarding schools in the Harry Potter universe — including one in North America.
Taking the stage at Celebration of Harry Potter at the Universal Orlando Resort, Evanna Lynch revealed some seriously juicy news to information-hungry fans. Ilvermorny (pronounced ill-ver-morn-ee), a magical institution in the northeast United States, is the name of the highly anticipated American wizarding school. With Fantastic Beasts and Where to Find Them hitting theaters later in 2016, there has been plenty of buzz about magic in North America . . . and with more information about the still-mysterious school set to be released on Pottermore sometime soon, we can't wait to read what JK Rowling has conjured up!
After Lynch shared the news about Ilvermorny, exclusive writings about other international wizarding schools were published on Pottermore. Yep, that's right — JK Rowling gifted us all with multiple new wizarding schools to dream about in a single day! Mahoutokoro, the Japanese magical academy, begins training young wizards at age seven. Interestingly, unlike at Hogwarts, Mahoutokoro students live with their families but attend classes by day! Throughout their education, students at the Japanese school wear robes that change color to reflect their level of knowledge and moral standing. You can read more about Japan's wizarding culture on Mahoutokoro's dedicated Pottermore page.
Located on the African continent, Uagadou is another of Rowling's academic wizarding institutions. According to the author, much of the magic taught at this school is reliant on body language, and the student population is largely comprised of Animagi. Check out more about Uagadou and its unique house sorting process on Pottermore!
Finally, Rowling has revealed that a South American school called Castelobruxo is located in Brazil. Protected by "furry spirit-beings" that put Peeves the Poltergeist to shame, Castelobruxo is known for its magizoological and herbological academic focus. You can read up on the academy and its foreign exchange program on yet another dedicated Pottermore page.
Now that we know about seven magical schools, you'll have an even harder time deciding which sounds best. Where would you prefer to study if you lived in the Harry Potter universe?